Fritt vilt II (Cold Prey 2)
(2008)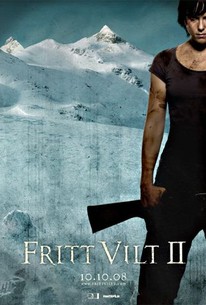 AUDIENCE SCORE
Critic Consensus: No consensus yet.
Fritt vilt II (Cold Prey 2) Photos
Movie Info
At the time of its release, the Norwegian-language gorefest Fritt vilt 2 (Cold Prey 2) - a sequel to the 2006 Fritt vilt - represented both the latest in a series of slasher outings to emerge from Scandinavia (thus marking something of a nascent trend for that region) and a throwback to the "hospital horror" subgenre to flood American and Canadian cinemas in the very early '80s, epitomized by efforts such as Boaz Davidson's Hospital Massacre (1981) and Jean-Claude Lord's Visiting Hours (1982). Here, Ingrid Bolsø Berdal stars as Jannicke - the only known individual who survives a devastating tragedy in the mountains, following a plane crash in the winter of 2006. She passes out, then comes to in a seemingly deserted hospital; it appears that she's the only one on the premises, but in truth, a maniac stalks the corridors, determined to kill and driven by bloodlust. ~ Nathan Southern, Rovi
Critic Reviews for Fritt vilt II (Cold Prey 2)
All Critics (1) | Fresh (1) | Rotten (0)
No snark, no irony, just a whip-nasty, well-shot, tightly-cut slasher sequel with a bad attitude. (And yes, it feels like a remake of Halloween 2.)
Audience Reviews for Fritt vilt II (Cold Prey 2)
½
Sequel to Cold Prey is a pretty good follow up, continuing where the first left off, this entry is a good film, but one that could have been improved upon. The first Cold Prey brought back the best elements of the Slasher film, while adding atmosphere and tension. While maintaining some key elements that made the first film what it was, this follow up manages to be thrilling and tense, but there could have been a few improvements here and there to make it a better film. The lack of truly original material on-screen is to be expected from this genre of horror. Luckily despite its imperfections, this follow up to Cold Prey still has plenty of effective bone chilling moments to appeal to the viewer. The film takes a different approach in terms of plot, and it is quite interesting to see where the filmmakers take the story. What separates this follow up from others is that though it uses the same old formula, the filmmakers at least try to create something new with the material while retaining everything that you'd expect. Despite its weak bits, there are still plenty of tense moments that will keep you on the edge of your seat from start to finish. Like Hatchet II, Cold Prey II manages to reuse the formula executed from the first film, and add to it, to make it a worthwhile movie to watch. Just when you'd think that the filmmakers have stretched the genre into every possible angle, they came up with this. Not a perfect film, but one that manages to still thrill and entertain you, compared to many other films that just fails due to the fact that Hollywood only is interested in remaking classics. Cold Prey 2 delivers and is a fine follow up to a modern Slasher classic.
Don't go in expecting unpredictable twists and turns, and/or thrills & chills, and you may stand a chance to appreciate it. Maybe the interesting bit is saved up for the last part, IF there's any (obviously, not the latter, but the former). For an >80 minutes film, it could have been more engaging, but given the genius makers we're dealing with, suffice to have even this much. In the absence of options, I'm dead sure to go for the third part (which is indicative of the fact that despite all my praise, I've still found the preys interesting enough).
familiar stranger
Super Reviewer
The slaughtering continues in the Norweigian mountains with this sequel that continues right after the first one. Slightly better than its predecessor overall. Better paced, more suspensful and even a couple of good scares are thrown in. The kills are bloodier and more graphic too as the killer is unleashed more viciously. A bit more of a backstory is provided to our birthmarked killer also giving him a more eerie presence. If you enjoyed the first film this is a must-see!
Fritt vilt II (Cold Prey 2) Quotes
There are no approved quotes yet for this movie.