The Frog Prince
(2009)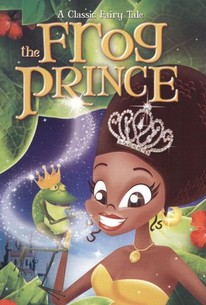 AUDIENCE SCORE
Critic Consensus: No consensus yet.
Movie Info
This animated adaptation of the classic tale follows an enchanted frog on a series of magical adventures as he attempts to restore himself to his true form -- a Prince.
Critic Reviews for The Frog Prince
There are no critic reviews yet for The Frog Prince. Keep checking Rotten Tomatoes for updates!
Audience Reviews for The Frog Prince
"A Classic Fairytale" is on the top of the movie's title, but they didn't finish it, it should have been "A Classic Fairytale turned into shit!". These motherfuckers actually had the gall to put "Vídeo Brinquedo presents" as if it was a good thing. The movie starts out with a rip-off Tiana named Iria that is dressed in stereotypical African gown saying "Wow what a beautiful shell...but there's nothing special about it." Yeah, do I have to say more? This movie obviously rips off "The Princess & the Frog", but also steals elements from "Aladdin", & "Beauty & the Beast". This movie may be better than "Little Cars", but even that's not saying much of how bad it really is. I was expecting it to be worse, but it wasn't luckily. Even so, it was still a painful experience. This movie is a poorly animated flash animation, the voice acting is horrendous, the dialogue is horrible (better than Little Cars, but still horrible), the characters are annoying, the story is a blatant rip-off of other Disney movies, & the whole movie is boring. Iria the princess has no personality, but yet it makes no sense because she was supposed to be a girl who only liked things that came up to her level of quality & beauty. She also rip-off Jasmine because she disses every royal suitor who wants to marry her for the same reasons. And she obviously rips-off Tiana in looks, but only this girl has every racial stereotype a black girl has from the large lips, to an afro. Her father is an annoying midget who has no changing facial features. And the old man that has agreed to marry her is not only a sexist piece of shit, but also seems to be a long lost brother of Eustace (Courage the Cowardly Dog) that we've never heard from. Oh, & the music in here is a cheap rip-off of Alan Menken's score for Beauty & the Beast. This movie makes little to no sense, & your head just hurts watching it. Well, that's all thanks to the shit Vídeo Brinquedo makes. This movie isn't original, & is poorly done in every aspect. Even at a 40 minute run time, this movie feels way too long. Say whatever you want about Dreamworks ripping off Disney & Pixar movies, but unlike this company, at least Dreamworks TRIES to make their films look different in almost every aspect.
Frisby 2007
Super Reviewer
The Frog Prince Quotes
There are no approved quotes yet for this movie.
Discussion Forum
Discuss The Frog Prince on our Movie forum!