From the Orient with Fury (Agente 077 dall'oriente con furore) (Agent 077 Fury in the Orient)
(1965)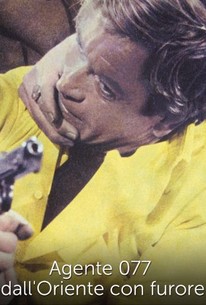 AUDIENCE SCORE
Critic Consensus: No consensus yet.
From the Orient with Fury (Agente 077 dall'oriente con furore) (Agent 077 Fury in the Orient) Photos
Movie Info
When a brilliant professor is kidnapped and forced to develop a revolutionary weapon of mass destruction, it's up to Agents Dick Maloy (Ken Clark) and Evelyn Stone (Margaret Lee) to thwart the diabolical plans of a powerful criminal mastermind. Shortly after dreaming up a design for a lethal disintegration machine, Professor Kurtz vanishes without a trace. He's being held on an island fortress, and should he succeed in carrying out his captor's plans, they day of reckoning may finally be upon us. Now, Agents Maloy and Stone race to shut down the project and rescue the professor. Other films featuring Clark as suave super-spy Dick Malloy include Mission Bloody Mary (1965) and Operation Lady Chaplin (1966).
Rating:
NR
Genre:
, , ,
Directed By:
On DVD:
Runtime:
Critic Reviews for From the Orient with Fury (Agente 077 dall'oriente con furore) (Agent 077 Fury in the Orient)
There are no critic reviews yet for From the Orient with Fury (Agente 077 dall'oriente con furore) (Agent 077 Fury in the Orient). Keep checking Rotten Tomatoes for updates!
Audience Reviews for From the Orient with Fury (Agente 077 dall'oriente con furore) (Agent 077 Fury in the Orient)
"There is absolutely no plot to the story other than a glorified game of cat and mouse between Agent 077 and the goons that keep tailing trying to obtain the plans for the weapon. The action sequences are amusing, the gadgets are cool, the locations and women are beautiful but as a whole the story had a hole large enough to drive a semi through!" Full review at: http://www.commonsensemoviereviews.com/2010/01/from-orient-with-fury-1965.html
Snipes .
This second adventure for James Bond knock-off secret Agent 077 sadly didn't out due the first film "Mission Bloody Mary" like the second Bond film and similar namesake "From Russia With Love" out did Bond's first adventure "Dr. No." Why might you ask? Well if you ask me it's due to the fact that "From the Orient with Fury" got released the same year as 077's first adventure and the hurried production reared its ugly head with flaws but not still being an entertaining, now obscure, Euro Spy flick. This time agent Dick Malloy must rescue a scientist from some terrorists what want him to build a laser to... du du duuuuu.... take over the world. Along the way 077 travels the globe and gets into a lot of chases, fist fights and women's beds. The plot is pretty typical for Bond knock-off fair and the typical Bond must-haves are included: exotic locations, sexy babes, gadgets (including a camera belt and Morse code suspenders) and fist fights. Even with all this the lackluster plot tends to bog this film down and it does become dull far too often for an espionage thriller. Ken Clark again is wonderful in the role of 077 was he is both a two fisted fighter and cool headed for a super spy. For Bond clones, you can't get better than Clark. The villains though are rather boring and the head baddie actually gets some unintentional laughter towards the end when he goes all bonkers with the death laser, disintegrating rock and soldiers in the process. "From the Orient with Fury" is easily the weakest entry into the 077 trilogy but it is still entertaining in its own low budget, James Bond inspired knock-off way. Compared to the other entries this one just lacks a good plot and gets bogged down because of it. Like the other films this is rather obscure but is the easiest to obtain on DVD. Like the other two entries the picture ratio screwed up on the Dorodo Films DVD. The 2.35:1 picture ratio is stretched to 1.85:1 making the image, and characters look tall and thin. Annoying, yes, but it's the only way to see the film for know. After contacting Dorado Films about the problem I was informed that they would re-release all three entries at later date with the ratio problem fixed which is great news for us Euro Cult fanatics. Dick Malloy with return in "Special Mission Lady Chaplin".
Eric Reifschneider
A 1965 Euro spy film. If you haven't seen a Euro spy film yet you should give it a try you will enjoy it. This one involves Ken Clark as Agent 077 Dick Malloy, he is after nuclear secrets that involves all the bad guys of the seventies, Russia, East Germany and China. Some real neat secret agent gadgets of the future, like a belt buckle camera, a lighter that shoots poison darts, Morse code suspenders but neatest of them all was the nuclear ray gun he ended up after near the end of the film. If anyone know a good Euro spy Web site or a list of Euro spy movies please let me know this one is from 1965 and gets 4 stars.
Bruce Bruce
Super Reviewer
From the Orient with Fury (Agente 077 dall'oriente con furore) (Agent 077 Fury in the Orient) Quotes
There are no approved quotes yet for this movie.