Frontier Marshal
(1939)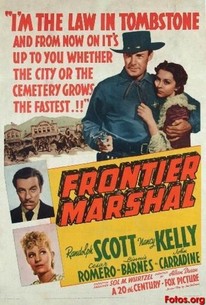 AUDIENCE SCORE
Critic Consensus: No consensus yet.
Movie Info
The second of three films based on the Wyatt Earp biography by Stuart N. Lake, Frontier Marshal stars Randolph Scott as Marshal Earp of Tombstone. Earp and his brothers enforce the law as much by reputation as by gunplay. Occasionally the marshal's efforts are complicated by his "friendly enemy" Doc Halliday (based on Doc Holliday and played by Cesar Romero), a consumptive gunslinger who runs the gambling activities in town. When a murderous outlaw (Joe Sawyer) invades Tombstone and kills Halliday, Earp is moved to action -- and the result is the gunfight at the O.K. Corral. A remake of the 1934 film of the same name, Frontier Marshal was itself remade by John Ford as My Darling Clementine (1946), with Henry Fonda as Earp and Victor Mature as Doc Holliday.
Rating:
NR
Genre:
,
Directed By:
Written By:
Runtime:
Studio:
20th Century Fox Film Corporation
Critic Reviews for Frontier Marshal
All Critics (3) | Top Critics (1) | Fresh (2) | Rotten (1)
Even the heroes' daring on behalf of justice has an ugly, raw blankness that Dwan films with a nerve-jangling clatter of graphic angles, leaving the fleeting moments of solitary contemplation all the more desolate.
Classic Film and Television

Ozus' World Movie Reviews
Audience Reviews for Frontier Marshal
½
Like the Story of the OK Corral by Someone Who Heard It Once a Long Time Ago Seriously, why didn't they just give up and acknowledge that this is fiction? This isn't the story of the Gunfight at the OK Corral. It has essentially nothing in common with the Gunfight at the OK Corral. Perversely, they get some of the more obscure aspects of the story right and then change literally everything else. Unto the spelling of one character's name and the complete elimination of all but two of the historical figures actually involved in the famous gunfight--and one of them is killed before it starts, leaving Our Hero to walk through the darkened streets of Tombstone alone to face off against someone who did exist but wasn't there so he can arrest him for the murder that didn't happen. Oh, and at the end, we zoom in on that murdered character's grave, and it says that he died in 1880. Which is, for those of you keeping track, the year before the historical gunfight. So yeah. Randolph Scott is our Wyatt Earp, and in the film's accurate beginning, he is an innocent bystander when Indian Charlie (Charles Stevens) starts shooting up a Tombstone bar. The town marshal (Ward Bond) refuses to go after him, because he figures he won't survive, so Wyatt does. Wyatt lives, and gets Indian Charlie, but turns down the job. And that is the end of accuracy for this movie. The rest of the story is this huge conflict between bar owners; Wyatt has no brothers, and the names "Clanton" and "McLaury" never come up. He does meet Doctor John Halliday (Cesar Romero)--and no, that's not a typo on [i]my[/i] part--formerly a quiet country doctor from Illinois and now a tubercular gambler and gunfighter. Sarah Allen (Nancy Kelly), once Doc's nurse and fiancée, comes to town after him, but Doc is now hooked up with dance hall girl Jerry (Binnie Barnes). Certain saloon owners are staging a pitched battle for the business of Tombstone, which includes abducting Eddie Foy (Eddie Foy, Jr.), of course. I would give this movie a positive rating were it not for the fact that it's pretending that these were the real events and the real people. As I've said before, we need to stop pretending that Doc was your man for gunshot wounds. Impacted molars, maybe. And the legend of Wyatt Earp, like the real man, is inextricably linked to his brothers. We may not know much about them, but we know that they existed. We know that they were there. But they aren't [i]here[/i], and it's a problem. We tend to romanticize Doc, who was apparently not as pleasant and charming as the movies would have you believe, and for some reason, the last two movies I've seen about these events have felt the need to connect him to a more idyllic past by having The Girl He Left Behind come looking for him. As I said, Curly Bill Brocius (Joe Sawyer) was a real historical figure, but he wasn't at the gunfight, and he didn't kill Doc--the tuberculosis did. I think the thing with the imagined Doc Holliday/Halliday past is that it represents our own cultural ambivalence toward the Wild West. I have this odd personal disconnect in that I cannot tie the chronology of the West to the chronology of the rest of the world--I have always found pictures from the San Francisco earthquake that feature cars jarring, because I can't fit it in my brain that cars existed, much less that it took place the year after Einstein's [i]annus mirabilis[/i]. In this movie, the ending makes explicit that Sarah is the forces of civilization. Jerry leaves town as a sign goes up announcing that a bank will be opening--Jerry cannot be in a place where people think about the future. Jerry is living in the moment and always will, and Sarah, as a nurse, is about actually taking care of things. Jerry leaves Tombstone and Sarah stays. It's worth noting that there's an enormous rose bush, supposedly the world's largest, just a few blocks from the OK Corral, and it was planted about five years after the gunfight. As a film, it isn't bad. Cesar Romero may or may not be Doc Holliday, but he's a charming Doc Halliday. You can believe the ladies, what few there are, would swoon over them. (Migration to the West was, at this time, 80% male.) Randolph Scott is noble and chiseled. (And in my head, he is always "wasn't he that guy who lived with Cary Grant?" The answer is yes.) The filming is decent. The costumes are fine. Chris-Pin Martin as Pete is shown considerable respect for a movie Mexican from 1939. Oh, it's not great art; the dialogue is often corny, and the story doesn't entirely come together even leaving aside that it's only brushing on the historical narrative most of the time. Though of course one of the things which is possibly historical but unbelievable is the presence of Eddie Foy. I don't know why he's in the movie, but he was in Dodge City for a while at the time Wyatt Earp was a marshal there, and he is rumoured to have been in Tombstone in October of 1881, when that gunfight actually took place.
Edith Nelson
Lacks the panache (as well as the star power) of the John Ford remake "My Darling Clementine." Short, but still dragged a bit.
Jeff Bachman
Frontier Marshal Quotes
There are no approved quotes yet for this movie.