Frost (The Last International Playboy)
(2009)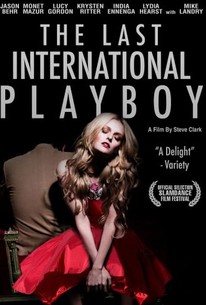 Frost (The Last International Playboy) Videos
Frost (The Last International Playboy) Photos
Movie Info
Roswell star Jason Behr assumes the role of a New York City playboy who sinks into a deep depression after learning that his childhood love is engaged to another man. Still haunted by his mother's recent suicide, professional charmer Jack Frost (Behr) is shattered to discover that his one true love is about to take the plunge -- but not with him. As Jack begins spiraling into a self-destructive cycle of whisky and reckless behavior, his best friends Ozzy, Scotch, and Kate struggle to find a means of jarring their depressed pal back to reality. Strangely enough, it isn't Jack's grown-up friends who offer him the most useful relationship advice, but his 11-year-old neighbor, Sophie, whose unusually wise and thoughtful words have a special way of helping the self-absorbed urbanite shake off the nostalgia and excess that threaten to consume him.
Rating:
R
Genre:
, ,
Directed By:
Written By:
In Theaters:
On DVD:
Runtime:
Studio:
Critic Reviews for Frost (The Last International Playboy)
Audience Reviews for Frost (The Last International Playboy)
½
I think the movie suffers from the same problem that its protagonist, Jack Frost, has. Once you get past the eye candy, the lively music, and the quirks of each "main" character, all you have left is emptiness. With the exception of Sophie, all the other players come off as self-absorbed and superficial. The irony is that Jack's cheesy sidekick, Scotch, probably goes through the most visible transformation (I say this loosely) on-screen. And that is the problem of the movie. There just isn't enough development of the relational dynamics within the movie to appreciate what is happening. I wanted to enjoy this movie more than I did....
Mike Yang
Having Written a Best Selling Book some 7 or 8 years prior, Jack Frost(Jason Behr) is living in the Very Fast Lane ever since, Party Boy Modelizer, it's 24/7 of Sex, Drugs, & Rock & Roll.But it's hearing that his Editor & Childhood Sweetheart is getting married, that seems to be his near undoing.His Two best friends are Ozzy(Krysten Ritter) who's on the road to self destruct with drugs & alcohol to excess, & Scotch(Mike Landry), a Socialtard who for some illogical reason, has a TV show about a Playboy Lifestyle.Enter Sophie(India Ennenga), the 11 year Old Neighbor with all the common sense that the, so called grown ups, don't have, that seems to be the Saving Grace of his, so called, Existential Crisis.For a movie, that in the first 10 minutes, appeared to be just another T&A opportunity,it turned out to be quite a poignant surprise of a film.Didn't see this one coming, but Me Likey
Marilee Aschwanden
Frost (The Last International Playboy) Quotes
There are no approved quotes yet for this movie.
Discussion Forum
Discuss Frost (The Last International Playboy) on our Movie forum!