Fudoh: The New Generation
(2000)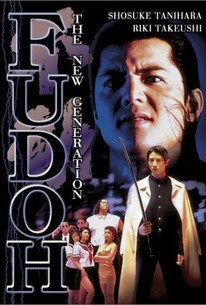 Fudoh: The New Generation Photos
Movie Info
Seijun Suzuki meets the Grand Guignol in this wild hallucinatory yakuza drama, directed by Japan's gonzo cinema auteur Takashi Miike, about one of the ugliest family squabbles this side of Oedipus. The film opens with lifelong gangster Iwao Fudoh (Toru Minegishi) killing his grown son after an important mob deal goes south, as his younger son, Riki, looks on. Fast forward ten years, Riki Fudoh (Shosuke Tanihara) is the coolest kid in high school, who also runs a band of school-aged assassins. Flanked by two lethal bombshells in schoolgirl outfits -- Toko (Tamaki Kenmochi), who sports an Uzi, and Mika (played by porn star Miho Nomoto), who sports a blow gun and freakish muscle control in her nether regions -- along with a bevy of commando elementary school kids, Riki slowly seeks revenge on his father and his associates, just as Iwao's gang is planning to merge with an even more nefarious outfit hailing from Kyushu. Explosions, decapitations, and hermaphroditic coupling ensue. ~ Jonathan Crow, Rovi
Rating:
NR
Genre:
, , , ,
Directed By:
In Theaters:
On DVD:
Runtime:
Critic Reviews for Fudoh: The New Generation
Audience Reviews for Fudoh: The New Generation
After listening to a podcast from IFC about shock cinema, my interest in seeing Fudoh: The New Generation was sparked. As far as violent and gory movies go Japan has a pretty strong hold on the market. And one of the most notable film-makers whose films contain a lot of over the top, or boundary pushing violence would be Takashi Miike. Now, compared to some of his later films Fudoh: The New Generation isn't as shocking, but it contains a lot of aspects to it that might raise some eyebrows. But leave it up to Miike to make the film strangely enjoyable, even with some rather unusual content. Fudoh: The New Generation pits father against son, after Riki Fudoh's (Shosuke Tanihara) brother is killed by their father to appease a rival yakuza boss. Starting his own criminal organization at his high school, Riki employs an assortment of unusual bodyguards and assassins. There are a couple of pint-sized kids who tote massive fire power, and even a stripper who uses a blowgun; but doesn't use her mouth to shoot the darts at her victims. I won't say where she does put it, but you should be able to guess that one easily. Like a lot of Japanese shock cinema, there is a lot of blood in Fudoh. And it is done in that fashion where people have endless gallons of blood that emit out of them whenever they are cut, stabbed or shot. Also, people seem to be able to take massive amounts of damage before they finally die. There is a shootout in a bathroom, where a man is hit dozens of times with power guns but keeps on moving. It's this sort of disregard to both logic and seriousness that made this film so enjoyable to watch. Fudoh: The New Generation has a nice steady pace to it, bizarre characters and situations as well as an endless supply of fun and memorable eye candy. Gangster movies have a tendency of being too serious, especially with their violent content. Which is why I think I like the perverse twist that Fudoh uses on standard gangster movies, which really helps the film stand out from the majority of the other films of the genre. It may not be as great as other notable gangster films, but it is one that you won't soon forget after seeing.
Bryan Gomez
½
Takashi Miike is a mixed bag of a director. There are some films that come across as brilliant and others that are just so-so. Fudoh: The New Generation is one that falls into the latter category.
There isn't much depth to the story, as it is basically assassination after assassination in a Yakuza themed film. Of course Miike tends to spice it up with the usual unique characters, bloody violence, nudity, sex, and strong language. This will come across as entertaining, however there are times when it is just unnecessary. It is almost like overbuilding certain aspects of the film.
The violence is a plenty and bloody. I mean, there are young kids and school girls performing kills in this picture. Seems like the typical gangster thugs aren't enough.
The nudity and sex is a bit much at times. One of Fudoh's right hand gals shoots darts from her lower lips. Yeah, that's right. There are also times where it seems that this is on the verge of wanting to turn into a soft core porn.
The acting is over the top and it matches with Miike's characters. Shosuke Tanihara is a little disappointing as Fudoh, but the beautiful schoolgirls in Tamaki Kenmochi and Miho Nomoto are there to take your eyes off of him. Riki Takeuchi is good, even though his character suffers from too little airtime, and Kenji Takano looks like he doesn't belong.
Fudoh: The New Generation will excite some and freak out others. Feel free to take a chance on this one.
The first Miike film I saw and boy was my ass kicked. This and Battle Royale are what got me in to Japanese films when I started getting tired of North American flicks. An incredible yakuza/exploitation classic.
Christopher Brown
Super Reviewer
Fudoh: The New Generation Quotes
There are no approved quotes yet for this movie.