Full Battle Rattle
(2008)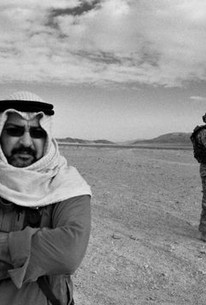 TOMATOMETER
AUDIENCE SCORE
Critic Consensus: Full Battle Rattle is an insightful, eye-opening account of the preparations soldiers must make for their service in Iraq.
Full Battle Rattle Videos
Full Battle Rattle Photos
Movie Info
Before American soldiers are deployed to Iraq, they're given special training at the National Training Center on the Ft. Irwin Military Reservation, located in California's Mojave Desert. The National Training Center has constructed a simulated Iraqi village called Medina Wasl in the desert, where new soldiers battle "insurgents" (played by returning U.S. troops) and interact with "ordinary citizens" (many portrayed by Iraqi exiles who've ended up in the United States) as they learn the ins and outs of combat in the Middle East. Filmmakers Tony Gerber and Jesse Moss follow Lt. Col. Robert McLaughlin as he drums the art of war into his charges in Full Battle Rattle, a documentary that offers a behind-the-scenes look at Medina Wasl, the soldiers who learn there, the people who organize the war games, and the people who've been hired to play-act at being the "enemy." Full Battle Rattle received its world premiere as an official entry at the 2008 Berlin Film Festival.
Critic Reviews for Full Battle Rattle
Audience Reviews for Full Battle Rattle
A rather wild look at the training camp set up in the Mojave desert to mimic the conditions of Iraq for the purposes of training soldiers for deployment. The film follows both the military men as well as the character actors within the 'village' who are given scripted prompts and elaborate back stories to work with to develop their characters and how they feel about the occupying U.S. forces. At turns disturbing, funny and downright depressing, this film is well worth a look. Recommended.
Bill Bryant
"The more your sweat in training, the less you bleed in battle." As a vet myself, I found this documentary completely engrossing. Right down to the finest detail, the documentary realistically captures an important part of our lives in the military. It's boring, stressful, exciting, depressing, and ironic. It ultimately prepares us for something bigger, but usually its not enough. I seriously wish that it went into a little more detail, but only for the benefit for the non-vets who don't understand certain aspects of military life (like the quick scene with the board games in the truck). "Training," is the theme here (before a deployment) and that's about it. If you're looking for meaningful insight into the Iraq war or another anti-soldier/anti-war movie, look elsewhere. You won't be getting into the soldiers heads either, since most soldiers would rather you not ask about their sob stories and PTSD. Anyways, if you consider yourself a troop-supporter and want to see soldiers in a realistic light that you haven't seen them before, I recommend to you this movie. Especially vets who've been through the old training sims. PS - I wonder if anyone's considered making a documentary of our demob training.
Chris M
Full Battle Rattle Quotes
There are no approved quotes yet for this movie.
Discussion Forum
Discuss Full Battle Rattle on our Movie forum!