Full Body Massage
(1995)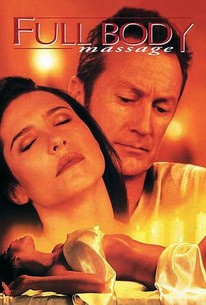 AUDIENCE SCORE
Critic Consensus: No consensus yet.
Movie Info
In this erotic drama, Nina (Mimi Rogers) is a successful gallery owner who lives alone in a luxurious house filled with exquisite works of art. Her career is demanding, and once a week she gets a massage at home to ease her tenseness. One week she is surprised when Fitch (Bryan Brown) arrives to substitute for her regular masseur. During the massage session, Nina and Fitch discuss their lives, and the film makes cinematic use of flashbacks and intercut footage to reveal their pasts and inner thoughts. Nina reminisces about her ex-husband, as well as about an artist who was a recent lover. Fitch's memories revolve around the love of his life, a Hopi woman who introduced him to the healing arts. Fitch turns out to be a man who both intrigues and irks Nina, and although she finds the massage physically relaxing, she is troubled when he confronts her with challenging questions. By the end of the film, more than Nina's physical tenseness has been released: she has opened up both psychologically and spiritually.
Audience Reviews for Full Body Massage
The reason this film isn't titled "Mimi Rogers Naked" is that it would border on false advertising. Rogers IS naked throughout most of the film, but most of that is her laying face-down on a massage table or a couch or whatever. On the bright side, there's extensive unimpeded displaying of Rogers' breasts and bottom throughout, but there's not one drop of Rogers in full frontal. [ There's also a good bit of additional nudity - including a wee bit of full frontal and sexual activities - when Brown has flashbacks regarding his own great lost love.] Rogers has a rather established history of titillation, nudity and sexual activity in her mainstream film roles, so SHE'S not the reason this film is lacking her in that regard. Rather, those scraps of celluloid were probably left on the Showtime cutting-room floor. Still, this isn't just any-old run-of-the-mill low-budget soft-core production for late-night Showtime broadcast. Nope, this comes from Aussie director Nicholas Roeg, best known for the industry-respected products "Walkabout" (1971), "Don't Look Now" (1973) & "The Man Who Fell To Earth" (1976). Despite its most obvious shortcoming, the sound, look & feel of the film is entirely uptown. Classy piano jazz suitable for martini-sipping wafts through the entire production, compliments of the prolific film-scorer Harry Gregson-Williams. The vast majority of the shoot was done inside a über-swank mansion, bursting with bad pretentious artwork, somewhere up in the L.A. hills. Financially successful Rogers drives a Mercedes coupe; the far more austere Brown arrives in an old Volvo ... but not just ANY old Volvo, mind you, a 1970ish limited edition two-tone Bertone 262C Volvo coupe. Sometimes the film's upscale strivings are just too much the stretch. The film is peppered with inter-title cards carrying lines of exotic poetry. The film gazes repeatedly at a triptych containing lines from Francis Thompson's "The Kingdom of God." Brown opines to great extent on the transcendental philosophy, and/or the Roman history, of massage. And the film is otherwise dripping gallons of pretentious high-brow conversation that is just way too reminiscent of dialogue courtesy of Eric Rohmer. On top of that, this encounter really doesn't even look like massage in any traditional sense. The duo wander through the house, then alight on a piece of furniture long enough for Rogers to do something odd such as rest her feet on a pair of magnets in order to draw out negative energy. Then they take a gab-fest break and then they move somewhere else. Also be prepared to suspend your disbelief in that your basic in-house massage now involves amulets, Hopi Indian blessings, burning of magic rope, crystals, shaman rituals, kombucha mushroom tea, swapping out different colors of light bulbs and other Zen-like activities and accessories. There so little actual deep Swedish or deep tissue action going on here, it only serves to make the film less believable. Anyway all that swag, over-the-top or not, absolutely qualifies the film as "classy" soft-core viewing, with the likely on-target audience being 40+ single women. This film's so far out-of-print, it's almost as though it never existed. Your choices are bootleg Region 0 DVDs on eBay or the part-ed version uploaded to YouTube. RECOMMENDATION: If those bits hadn't ended up on the cutting room floor, this film could have ended up with a respectable legacy/reputation, similar to "Lake Consequence," "Two Moon Junction," other Zalman King productions, et. al. As it stands, however, a once-over via YouTube is all it really deserves.
TonyPolito Polito
Much like "My Dinner with Andre," the simplicity of setting and depth of dialogue pack more of a punch than would be expected. Bryan Brown is always a treat to watch and Mimi Rogers' lovely assets only add to the allure.
Jeff B
Mark Evans
Super Reviewer
Discussion Forum
Discuss Full Body Massage on our Movie forum!