Full Moon High
(1982)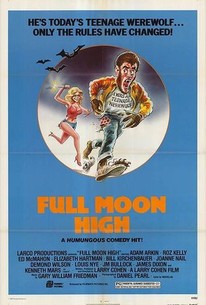 AUDIENCE SCORE
Critic Consensus: No consensus yet.
Movie Info
In this uneven spoof of werewolf films, the setting in the first half is "Full Moon High School," where Tony Walker (Adam Arkin) captains the football team. Before the season ends, he is sent to Romania by his dad, a CIA operative, and is bitten by a Romanian werewolf. Once back in school, his new traits ruin his football career and garner headlines in the paper like: "Werewolf Annoys Local Community." (It seems his bite is more of a nip.) 20 years go by during which Tony nurses an ambition to go back to his high school and finish up the football season he had to abandon once his incisors took on a life of their own.
Audience Reviews for Full Moon High
½
A star high school football player travels with his CIA agent father to Romania to help provide cover. He ends up getting bit by a werewolf while his dad is trying to have a threesome. Once back home he had to deal with his new found supernatural abilities along with being a adolescent. He cannot handle the stress so he leaves town only to return 20 years later impersonating his "son". His ex girlfriend knows better and lusts after the werewolf she helps to expose to the public. Part the early 80s werewolf tide ("Teen Wolf," "The Howling", "Wolfen", "An American Werewolf in London," etc). A real "B" movie, but the humor is pretty damn good, on par with the likes of "Return to Horror High," "Saturday the 14th," or "Bloodbath at the House of Death."
D M
½
A really bad film redeemed somewhat by Adam Arkin's natural charm. This was his first lead and much better things were ahead for him the same was not true for Elizabeth Hartman. She has a small role here well beneath her talents, at one time a rising Oscar nominated actress this was her last onscreen role before her suicide a few years later after years of battling emotional problems. Alan Arkin's presence can only be explained as a good luck gesture to his son.
½
This comedy is pretty stupid for the most part, but it's also got a lot of really hilarious jokes which spoof werewolf movies, and it has an funny cast. I enjoyed it for the most part.
Full Moon High Quotes
| | |
| --- | --- |
| Miss Montgomery: | Hilarious! One of the great comedies of all time. Ed Mcmahon shows why he should have had owned Hollywood and the Valley. |
Discussion Forum
Discuss Full Moon High on our Movie forum!