Funeral Kings
(2012)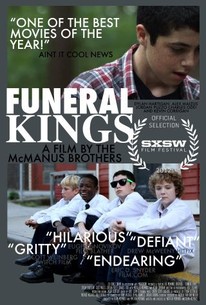 Movie Info
It's always a good day for a funeral at St. Mark's Middle School. Andy and Charlie, two altar servers, don't just get to miss class anytime a parishioner kicks the bucket, they cut out early and play hooky as soon as the service is over. Eventually their irreverent personalities will put them in situations that are too big for them to handle.
 
 When Bobby, a 16 year-old dropout and former altar boy, hides a padlocked trunk in Andy's bedroom, he explicitly tells Andy not to open it. In spite of the warning, Andy and Charlie do whatever it takes to get inside. They crack it open to find just what they had hoped for--fireworks, cigarettes, even dirty magazines. The most alluring of all the contraband, however, is the piece they didn't expect: gleaming back at them is a small, silver, .38-caliber revolver enticing the boys to get in over their heads. (c) Official Site
Rating:
R (for language throughout, sexual references, some drugs, drinking and smoking - all involving kids)
Genre:
Directed By:
Written By:
In Theaters:
On DVD:
Runtime:
Studio:
News & Interviews for Funeral Kings
Critic Reviews for Funeral Kings
Audience Reviews for Funeral Kings
Funeral Kings isn't great, but it is a solid indie film with a fun throwback vibe. The entire time I was watching this I felt like it could have been from the 80s, right along the lines of Stand By Me and The Goonies. Obviously, this doesn't come close to touching those classics, but I did enjoy it. It's that typical story of a group of kids finding themselves in trouble, but with a more vulgar twist to it. I enjoyed watching these foul-mouthed kids interact, and at times it reminded me of my friends at that age. It feels fairly realistic, but the acting is pretty bad at times. Unfortunately that really hurt the film for me, especially when the story is all about these child actors. The payoff also feels a bit lackluster, especially when compared to those other films I've mentioned. That being said, I did like this movie. It's got some good things going on and I'd definitely revisit it.
Seth Yerington
½
Okay, so where do I begin? Is this film bad? No, it's nicely made. Is this film boring? No, it keeps itself entertaining. Is this film not funny? No, I laughed a lot. So what exactly makes Funeral Kings not so good? It's a pretty realistic portrayal of middle school kids, and I think while that's it's greatest asset, it's also it's downfall. Funeral Kings reminds me a lot of a previous film I watched, Bullhead. Plot points are dropped and it's tonal shifts are somewhat grating. I found it to be a disappointment. Funeral Kings is about the life of 2 middleschoolers, who are also alter boys. Due to this, they can get out of school earlier than everyone else and attend a funeral. Once the funeral is done, they usually skip class. And on one day, a new member joins the group and turns out to be an actor. And that's as much of the plot I can explain cause after that, this film turns randomly to different plot points, one involving a gun they find and a pretty predictable outcome... It's basically a mix of Superbad and Stand By Me. Hell, the last half is reminiscent of Stand by Me while the first half is Superbad. Therein lies the first problem: It doesn't know whether it wants to be a serious coming-of-age film, or a comedic one. That leads to some jarring tonal shifts. One moment, you are laughing. The next, you feel sad. Now, it handles both moments excellently when looked at as individual scenes, but when combined, it really hurts the film. I'm very confused as to what they were going for. Then, there are the constant plot points being dropped. I get it. It's supposed to be gritty and realistic. No one in their right mind would return to a drug dealer's dungeon, but that's the difference between a movie and real life. Movies are meant to be escapism or help us cope with something personal. I'm not sure about other people's lives, but mines did not include a drug dealing dungeon. I would have loved a little closure on that. Then, there's the fact that the plot points that are given closure, aren't satisfying enough. I mean, we only get one line of dialogue as to what happened to something. The acting was good and I liked the realistic dialogue but the plot was almost nonexistent. It wasn't much of a comedy but it wasn't much of a drama either. There was no life lessons learnt and when the young boys were presented with a possible life changing situation, nothing really came of it. I just found that by the end, I wondered how this could be a full length movie. A short film maybe, but not a full length film. There was not enough substance for that. It was scattered as many reviewers mentioned but this was not a good thing. I would skip this one. Even more disappointing, I rented it as a new release and got home and found it was on Netflix for free. Only rated 3 stars on there. Overall, Funeral Kings is an okay film. It's funny, dramatic, and entertaining. But it strives to be a Superbad/Stand By Me combination. There are much better coming-of-ages films, like the two I just mentioned. It's frequent plot points being dropped is kind of a downer, and as a result, it doesn't feel cinematic. I know that's not what it was going for, but it needs to close off some of them. With that being said, there are many good things to note from this film. The main actors are pretty good in their roles, especially Dylan Hartigan, who outshines everyone else. The cinematography is passable, given it's not a big budgeted film. And the dialogue is witty at times, though sometimes they just throw in the word "fuck" for the fuck of it. So, would I recommend it? Eh.... maybe if you have nothing to do. But that's pushing it.
Do you even Jay Cutler?
With a Tomatometer of 88% I expected better, but there were parts that were especially endearing if you grew up boy in suburbia America.
Cory Schafer
Funeral Kings Quotes
There are no approved quotes yet for this movie.