Funky Monkey
(2004)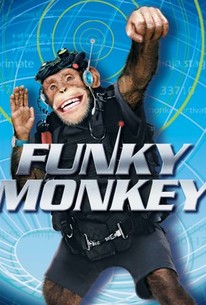 AUDIENCE SCORE
Critic Consensus: No consensus yet.
Movie Info
When a rogue CIA agent and a kung fu fighting chimp named Clemens stage a daring escape from a top-secret government testing facility, the stage is set for an adventure that's sure to please the entire family in this primate crowd-pleaser featuring Matthew Modine, Seth Adkins, and Roma Downey. Appalled at the conditions under which chimpanzees are transformed into kung-fu fighting soldiers in a high-tech government lab, sympathetic trainer Jack McCall (Modine) smuggles experimental test subject Clemens out of the lab -- but not before being noticed by the nefarious henchmen who guard the facility. As the government agents close in, Jack and Clemens seek refuge in the house of single mother Megan Dean (Roma Downey) and her young son, Michael (Adkins). When the escape plan goes sour and Clemens is taken back into custody, it's up to Jack and his new friend Michael to bust their hairy pal out of primate prison!
Critic Reviews for Funky Monkey
There are no critic reviews yet for Funky Monkey. Keep checking Rotten Tomatoes for updates!
Audience Reviews for Funky Monkey
Rented this one time for the kids and it was actually kinda cute. Bought it and watch it often. Takes place in San Diego mostly, so it's nice to see familiar places. (We lived there one year).
Melanie "Camper Girl" Casteel
½
SILLY FAMILY FILM, THAT IS AIMED PRIMARILY AT THE 8 TO 12 YEAR OLD CROWD. NOT VERY ENJOYABLE FOR ADULTS, BUT THERE ARE SOME AMUSING MOMENTS. IT'S HARD TO GO TOO WRONG WHEN A CHIMPANZEE IS IN THE FILM.
James Higgins
[b]Ladder 49[/b] I loved it. It plays with your man card as the ending is very emotional. And it's not so much the ending, but how the ending is delivered that really toys with your feelings. You see Jack Morrison (Phoenix) progress the ranks of a firefighter, the bonding with his fellow station mates and his relationship (and eventual marriage) to Linda (Barrett). The critics watched and dogged this movie for all the wrong reasons. [b]Collateral[/b] A little unbelievable at a few moments, your standard action flick. Tom Cruise as a bad guy just doesn't work in my book.. The ending sucked too. [b]City of God[/b] It's foreign with subtitles, but it has a solid storyline. It runs a bit long, but it's very enjoyable. The ending and involvement of the boxer kind of distracted from the storyline though. [b]The Whole Ten Yards[/b] Bruce Willis, you crazy. [b]Funky Monkey [/b]I rented this, yes. I fast-forwarded through some of the parts (the movie runs an hour and 15 minutes, I finished it in less than an hour), I think I had more fun laughing at certain parts and pointing out clear errors in directing/acting. But seeing as this movie is for kids, I'll give it a 4.
Michael B
Funky Monkey Quotes
There are no approved quotes yet for this movie.
Discussion Forum
Discuss Funky Monkey on our Movie forum!