Funny Ha Ha
(2003)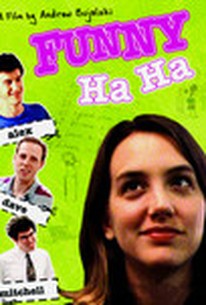 Movie Info
A tale that follows 23-year-old Marnie -- a confused and bemused young woman -- as she travels through her alcohol fuelled daze known as post college graduation. Being recently terminated from her temp job, Marnie decides it's time to look for something more substantial, a boyfriend. There is this one guy, Alex, who Marnie wants to commit with, however he doesn't readily return her feelings.
People Who Like this movie also like
News & Interviews for Funny Ha Ha
Critic Reviews for Funny Ha Ha
Audience Reviews for Funny Ha Ha
One thing to know about me, I am NO fan of the summer blockbuster film. Garish special effects, unrelatably attractive movie stars and inauthentic dialogue finds no favor here. Undoubtedly there are others who share those same feelings since a film like "Funny Ha Ha" exists; a work so far removed from those excesses that the two styles may as well be alien languages. I enjoyed a film like "My Dinner With Andre" because, although similarly sparse, it joyfully reveled in the unique space of it's own hyper-intellectual avant-gardism but "Funny Ha Ha" doesn't seem focused on any real purpose. Kate Dollenmayer nails the cute, approachable girl-next-door appeal on screen but everything about the film is too absurdly realistic to be entertaining. Dull characters and poor acting abound in a movie that could be most graciously described as ardent amateurism.
Brandon Rompa
Super Reviewer
This has been on my to-watch list for a while. Even considered buying it as it has been hard to find as a rental. Have to say, glad I didn't buy it now, but still glad to have seen it. It is quite a nice little story, but kind of pointless. I think a lot of people would feel very bored with it's pace and lack of plot. The main actress is likeable and I could relate to her, but definitely could have been a little stronger on story. Worth a rental, but not one to keep.
Nicki Marie
Super Reviewer
Unconventional low-budget offering that goes for reality. The reality is though that this film is just too preoccupied with its realism leaving for a bland and pointless film. It fearlessly represents the awkwardness of that time in ones life where jobs and relationships are hard to come by. The dialogue is real and often engaging, but the funniest thing of Funny Ha Ha is that it certainly isn't chuckle worthy. It's more like a documentary of someones life, but with no interesting hook, just one person and what they do.
Luke Baldock
Super Reviewer
Funny Ha Ha Quotes
There are no approved quotes yet for this movie.