Future by Design
(2006)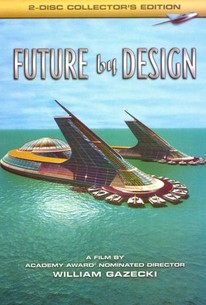 AUDIENCE SCORE
Critic Consensus: No consensus yet.
Movie Info
This biographical documentary by William Gazecki plunges into the mind and thought processes of industrial engineer and architectural designer Jacque Fresco, a man known for promulgating futuristic building designs and societal utopias based exclusively on environmental concerns and education. The program visualizes many of Fresco's concepts, courtesy of onscreen illustrations by Star Trek animator Doug Drexler.
Critic Reviews for Future by Design
There are no critic reviews yet for Future by Design. Keep checking Rotten Tomatoes for updates!
Audience Reviews for Future by Design
"All the marvels and wonders of technology can amount to nothing unless it elevates humans to their highest potential, this is the aim of the Future by Design." The Venus Project, Jacque Fresco, The Jetsons, Warner Bros, Unity. On religion, patriotism, money and etc etc etc. Ahhh... I just want to say that I ABSOLUTELY LOVE HIS BRAIN! Now on to the comments: I absolutely love his vision, his philosophies and his way of thinking. However, this does have a way of sounding so... "far out". Although I believe that his vision is not impossible to achieve by humankind, the current world that we all live in still has a long way to go. A great deal about this film is spent on technological designs and sociological systems, with whats wrong and what should be, he talks about how religion, patriotism, and all those "really heavily meaningful words" really just mean one thing. DIVISION. And he is correct with that. This man offers a vision on how wonderful our world can totally be, he provides solutions and great explanations, and I totally understand why he got featured in Zeitgeist, because of his somewhat Deistic beliefs, which makes hard hitting critics, die hard religious dumf**ks and moronic trolls bash almost everything about this guy all because oh its related to zeitgeist its bullshit yackety yackety blablabla, cracked.com trolled about it lets all have a laugh! "har de har har!" --- The thing is theres nothing wrong about what this guy wants, I almost feel sorry for him because people like him, visionaries, thinkers, who doesnt give much of a kcf about money, get used half the damn time by people for profit, he doesnt even care if his ideas get used by someone else, as long as they get used. (its in the film.) Watch it from start to finish, I didnt see or feel anything wrong with what this guy is doing. I dont see him as cocky or full of pride or egotistic as that other 'futurist" in 2057. "Patriotism, weapons, armies, navies... all of those are a sign that we are not civilized yet." "We talk about civilization as though it's a static state. There are no civilized people yet, it's a process that's constantly going on... As long as you have war, police, prisons, crime, you are in the early stages of civilization."- Jacques Fresco HIGHLY RECOMMENDED. In fact, I love this film so much that I want it to be shown in colleges, schools and everywhere else possible. For the Fresco Lovers: Hes got a book out! The Best That Money Can't Buy: Beyond Politics, Poverty, & War. (2002) Similar stuff like this: 2057: Discovery Channel, Michio Kaku. (2007) Oh! By the way, Einstein is in this thing, lol!
Future by Design Quotes
There are no approved quotes yet for this movie.