Future Fear
(1998)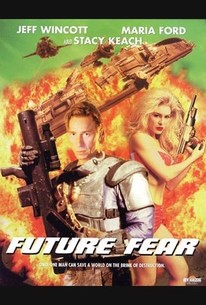 AUDIENCE SCORE
Critic Consensus: No consensus yet.
Movie Info
In the year 2018 A.D., Dr. John Denniel (Jeff Wincott) is a geneticist who is persuaded by Lt. Anna Pontaine (Maria Ford) to help with a government study of extraterrestrial viruses to be brought back to Earth on an upcoming space probe. John and Anna find their feelings are moving beyond professional courtesy, and they marry and are soon expecting a child. Their happiness is cut short when they receive word that the space probe has fallen out of orbit, crash landing in Africa while carrying a virus that could possibly kill billions of people. After Anna suffers a miscarriage, she becomes obsessively protective of a set of human embryos John has created, which have been engineered to be resistant to the virus; she wants to see them brought to term, while John wants to use them to create a vaccine that could save lives as the virus spreads. Meanwhile, John discovers the crash of the space probe was rigged by General Wallace (Stacy Keach), a psychotic racist who wants to wipe out humanity so he and his associates can repopulate the earth as a purely Aryan planet; John also finds Wallace has plans of his own for the embryos.
Rating:
R (violence, language)
Genre:
,
Directed By:
In Theaters:
On DVD:
Runtime:
Studio:
Concorde/New Horizons Home Video
Critic Reviews for Future Fear
There are no critic reviews yet for Future Fear. Keep checking Rotten Tomatoes for updates!
Audience Reviews for Future Fear
½
In the distant future of 2017 mankind has decided to do the dumbest thing yet. In our infinite wisdom we chose to send viruses from a nearby comet back to earth with disastrous results. Now it's up to Bluntskull Beefcake and his wife (the general's daughter) to find a cure to the plague. Don't let anyone fool you. This movie sucks. It does however have a few funny parts, which makes it worth watching. Here are my favorite quotes from Future Fear. Jeff Wincott - "Good morn'n VIETNAM." Jeff Wincott - "No pickles. That's bullshit." Jeff Wincott - "Eating just saved my life Robert. Ha ha ha ha." What did I learn from watching Future Fear? 1. People named Plato Fountidikas die easily. 2. Don't tell your wife you want her to get an abortion after the world has ended. She won't take it well. 3. Don't try to accelerate the growth of test tube babies. 4. Spinning fan blades can easily be stopped by chucking your gun into them sideways. 5. The woman who loves you the most will kill you if she thinks the future depends on it. 6. Three billion people can die in a week and news reporters will remain monotone and calm. 7. Electronic bouncer systems suck. 8. Punching your wife in the face will make you very hungry for a sandwich. 9. Stacy Keach is easy to recognize but hard to remember where you know him from. 10. You can make a flame thrower from bar equipment. Would I recommend watching this movie? Maybe. It depends on how desperate you are.
Kurt Astbury
Future Fear Quotes
There are no approved quotes yet for this movie.
Discussion Forum
Discuss Future Fear on our Movie forum!