Future Force
(1989)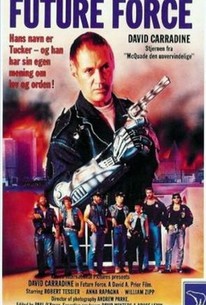 AUDIENCE SCORE
Critic Consensus: No consensus yet.
Movie Info
In this futuristic film, law and order are things of the past as cops are driven off of the crime-infested streets. It is up to a group of vigilantes to set things straight.
Critic Reviews for Future Force
There are no critic reviews yet for Future Force. Keep checking Rotten Tomatoes for updates!
Audience Reviews for Future Force
½
In the near-future, John Tucker (Carradine), the top officer of C.O.P.S, a privatized police force that's little more than an elaborate bounty-hunting service, is targeted for death by his corrupt boss (Zipp) when he refuses to kill a television reporter who claims to be able to expose criminal activities within the police force. There was a roleplaying game called "Cyberpunk 2020" that my friends and I loved to play, and we had a joke that in the dark future, no one wears pants, because every illustration of a woman in the rulebook had her in a leotard and no pants or skirt. It was a game with a fashion sense and future vision that was generated in the late 1980s and that time had passed by. That didn't make the game any less fun, though, because much of the world existed in our imaginations. "Future Force" has some of the "Cyberpunk 2020" problem insofar as its vision of the future was formulated in the late 1980s. Atltoought, frankly, the dark future here feels and looks like it's the late 1970s--except for the ladies' hair styles... those are pure 1986--and the best and brightest of law enforcement look like they're a third-rate biker gang and are equipped and trained about as well, too. if you imagine a movie filmed with a half-baked script that's nearly devoid of logic and internal continuity that incorporates ideas from "Robocop" (but not is hi-tech free except for a wireless computer/video network and a self-propelled flying robotic gauntlet that shoots laser beams and is kept in a remote-controlled toolbox in the back of David Carradine's car), cribs extensively from "The Gauntlet", and is filmed a budget so low that the cost to rent the helicopter for one of the chase scenes was probably the biggest line item so the film exudes cheapness in every frame, and you've got "Future Force". [center] [img]http://www.geocities.com/nuelow/movfutureforce7.jpg[/img] [i]Tomorrow's top cops are on the job in "Future Force"![/i] [/center] I've seen some low budget movies, but few have felt as cheap as this one. From the lame costuming choices (police uniforms of the future are jeans and jeans vests), lame fight scenes and shoot-outs, actors who feel like they want to be anywhere but in this movie, and to the not-so-special special effects, the movie feels impoverished in every way. My advice would be to not let it impoverish you and to not bother with it unless you can watch it for free. Even then, I think you could spend your time better. Have you seen any of the "Black Cobra" movies yet? [URL=http://www.geocities.com/nuelow/movblackcobra.html]If not, click here to read my reviews of them.[/URL] They may not be sci-fi, but as action films and/or cop dramas, they're still better than "Future Force".( In fact, this film has made me feel a bit bad about how harsh I was to those three Fred Williams films. THIS is the movie to save until you've watched all other action films.) Future Force Starring: David Carradine, Anna Rapagna, D.C. Douglas, William Zipp, and Robert Tessier Director David A. Prior
Steve Miller
Future Force Quotes
There are no approved quotes yet for this movie.
Discussion Forum
Discuss Future Force on our Movie forum!