Future Zone
(1990)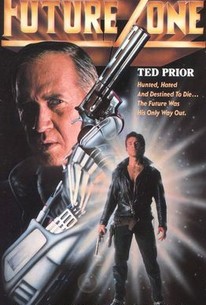 AUDIENCE SCORE
Critic Consensus: No consensus yet.
Movie Info
When a police officer's life is threatened by some murderous thugs, his son must travel back in time to attempt to alter the past and save his father's life.
Rating:
R
Genre:
,
Directed By:
Written By:
In Theaters:
On DVD:
Runtime:
Studio:
Action International
Critic Reviews for Future Zone
There are no critic reviews yet for Future Zone. Keep checking Rotten Tomatoes for updates!
Audience Reviews for Future Zone
The only thing I ever liked that featured David Carradine was the TV series "Kung Fu" from the 1970s. After that he was in a lot of very bad low budget movies. After seeing some of them I didn't think they could get any worse until I saw this. This has got to be the worse of the lot. Here he plays a cop in the future whose son time travels back to rescue him from certain death.
King Lam
½
The toughest cop/bounty hunter in a dark future, John Tucker (Carradine), is facing trouble at home from his neglected wife (Jensen) and trouble at work in the form of a case that gets deadlier by the hour, a young hotshot, Billy (Prior), shows up on the force to lend him a hand. His insight and ability to be just where he's needed arouses Tucker's suspicion, but the stranger soon offers proof that he's a time travelver who has come to help Tucker. But will his presense and knowledge ultimately end up causing the deadly events he's there to stop? "Future Force" is the sequel to a rather weak sci-fi effort titled "Furture Force", which also starred John Carraine as tough COP (which stands for Civilian Operated Police, because law enforcement has been privatized in the dark near-future of the film's world) operative. It's one of those rare sequels that's actually better than the movie it follows... although not by much. The acting in "Future Zone" is universally better than in "Future Force". David Carradine seemed to be half asleep for most of the original film, but he seems to be getting into the role of John Tucker here. Similarly, the supporting cast seems to actually want to be on-set, which isn't the overall impression I had from those involved with the original film. The sense I had the cast actually wanted to be making this movie whree as the last time around, I had the feeling most of them would rather be golfing. Either David Prior (who also directed "Future Force") got better at motivating actors, or something else changed between the two films. The concept of the strange hybrid between law enforcement and bounty-hunting that makes up the police activity in this film is a little better handled--at least the officers are wearing something that can could kinda-sorta be considered recognizable uniforms instead of looking like they just came back from a Hell's Angels meeting in 1973. The equipment used by these future cops is still nonsensical and badly thought out--Tucker uses what looks to be a Remington Army Model as his main weapons (a single-action revolver with a six-round tumbler) yet he also has the bizarre robot arm that shoots laser beams that appeared in the first movie and why he doesn't use it all the time is not explained--and there seems to be no procedure or screening process for who gets to be a cop. (When the time-traveling Billy shows up, they just let him into the station and assume he's legit.) The sound track music is also used to greater effect in this film that it was in the first, although the composer really should have dailed back on the hamminess at times. On more than one occassion, the music is so overblown that it's almost comical. And then there's the time raveler. I love the idea of the son coming back to spend time with his dad, but it's an idea that's seriously under-utilized in this film. They briefly touch on the problem that Billy's very presence is impacting the timeline and making things more difficult for Tucker, but that's all they do, touch on it and move on. Aside from cheezy effects whne the time traveler comes and goes, he might as well have been some guy with inside information on the bad guys from a more mundane source. There's virtually no impact on the story that comes from Billy being a time traveler. Although each improvement in the film also comes with a downside, the really crippling factor here is that the script here is even weaker than in the first film. First off, the villains are something of a retread from the first film--can't they find anyone to run the police department who isn't a corrupt?--and their behavior is so illogical that it goes beyond simply being an artifact of bad storytelling writing but instead rises to the level of epic stupidity. (The villain wants to not be assoicated with a raid on a drug lab he was operating so what does he do? He ends his main henchman to bust a flunkie out of jail and bring him to his home and then later kidnaps Tucker's wife.) I could also nitpick the fact that the dark future of this film looks an awful lot an idustrial district of a California town on a Sunday morning ca. 1989. The same is true of the neighborhood where Tucker lives. But, since they bothered to give the cops uniforms in this film, I think I can cut the movie some slack for being so low-budgeted that its "future" looked like yesterday even before the film was released. The main thing "Future Zone" has going for it is that it is so illogical that it teeters on the brink of being "so bad it's good". It isn't quite dumb enough to earn points for its badness, but it might still be a suitable secondary feature for a Bad Movie Night. It's not good for much else, and this little series is something that action fans can set aside until they've seen everything else that's out there, including Fred Williamson's "Black Cobra" pictures. (Yes... "Black Cobra" and its two sequels actually have more excitement and logic to them than these movies.) It's kind of a shame. I love time travel stories. I think "Future Zone" would have been far more interesting if they'd actually DONE something with the time travel element. If you want to read my review of "Future Force" [URL=http://www.rottentomatoes.com/vine/journal_view.php?journalid=245672&entryid=523076&view=public]click here[/URL]. Future Zone Starring: David Carradine, Ted Prior, Patrick Culliton, Renee Cline, Gail Jensen, and Charles Napier Director: David A. Prior
Steve Miller
Future Zone Quotes
There are no approved quotes yet for this movie.
Discussion Forum
Discuss Future Zone on our Movie forum!