Fuzz
(1972)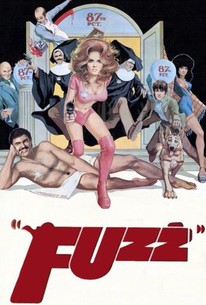 AUDIENCE SCORE
Critic Consensus: No consensus yet.
Movie Info
This comedy affectionately spoofs police dramas and boasts a screenplay by Evan Hunter, the real name behind the detective novels of "Ed McBain," whose works were extremely popular in Germany, giving rise to over thirty films. In this story, The Deaf Man (Yul Brynner) repeatedly targets local politicians for bombings, and detectives Carella, Meyer, Brown and King (Burt Reynolds, Jack Weston, James McEachin and Tom Skerritt) are the policemen assigned to track him down. All are distracted by the charms of Detective McHenry (Raquel Welch). Though nothing runs smoothly at the stationhouse, the search continues.
Rating:
PG
Genre:
, ,
Directed By:
Written By:
In Theaters:
On DVD:
Runtime:
Studio:
MGM
Audience Reviews for Fuzz
This is movie is set in Boston in the early 1970's. It's a comedy but it tries to be realistic. That's hard to do when the plot involves a group of killers extorting money from the city by killing members of the city government. If this were to happen for real it would be a major news story and the whole city would be shutdown till the criminals were caught. There are too many plot lines running through the movie that prevents the stars of the movie being on screen in much of the movie. If you have Burt Reynolds and Raquel Welch in a movie in the 1970's, that's who you want to see on screen, not the supporting actors. The shows the technology the police were using in the 1970's. There are old fashion switchboards and rotary telephones. They use big bulky two-way radios to long antennas. The mayor used punched card auto-dial machines to make phone calls. The painters try to steal a bunch of old manual type writers. However they all looked like they came out of the 1940's. It would have been better if they had been using IBM electric typewriters from the 1960's. In 1970 those old manual typewriters would have been worthless. In the background of the outdoor scenes there are real life scenes of Boston with cars from the 1960's and 1970's. The clothes are not trendy so if someone wore the same clothes today they wouldn't look out of place. The movie is a mix of Dirty Harry and MASH. It tries but doesn't have any good jokes.
Donald White
Ok, so Fuzz definitely won't win any awards for originality or even pushing the envelope, but it doesn't need to. It's one of the most enjoyable cop dramedies that Robert Altman never made. It really does feel Altmanesque to me at times (if there is such a thing). The word is that its two main stars, Burt Reynolds and Raquel Welch, didn't get along so well during the filming. That may or may not be true, but I know that they don't really share any scenes together at all, so I couldn't see it as being a major problem. Apparently, the film is based on a series of novels by Ed McBain. There were some changes, as always, including giving the city an official place and setting, as well as pushing it into more comedic territory. It's tone is definitely not consistent, and it doesn't really succeed at any tone it's trying to settle on at the time, but it winds up being fun anyways. That's a pretty tough thing for a dramedy. Yeah it works, but the wheels do squeak a bit.
Tim Salmons
Super Reviewer
½
So-so police comedy drama, not particularly fast moving. Somewhat interesting, just bland. Nothing special.
James Higgins
Fuzz Quotes
There are no approved quotes yet for this movie.