Gabal (The Wig) (Scary Hair)
(2005)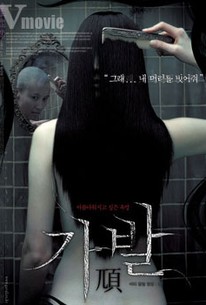 AUDIENCE SCORE
Critic Consensus: No consensus yet.
Gabal (The Wig) (Scary Hair) Photos
Movie Info
When a terminal cancer patient goes home from the hospital in order to truly enjoy the time she has left, a dark force in the form of a possessed wig launches a supernatural attack on her frightened family. Her sister bought her the wig so that she could venture outdoors without feeling self-conscious, but when the haunted hairpiece proves to have a mind of its own the family must band together to confront an unimaginable evil. ~ Jason Buchanan, Rovi
Critic Reviews for Gabal (The Wig) (Scary Hair)
There are no critic reviews yet for Gabal (The Wig) (Scary Hair). Keep checking Rotten Tomatoes for updates!
Audience Reviews for Gabal (The Wig) (Scary Hair)
½
Supernatural Korean horror with an interesting premise about a possessed wig which starts to bring about unusual physical and personality changes to its new wearer who's suffering from terminal cancer. It's all nice and elegantly styled but the film moves too slowly during the middle parts and too much drama is added to the mix. It gets off to a good start with some genuinely creepy moments and a couple of well mounted scares, but it makes little effort to pack in anymore effectively eerie moments during the rest of the film. Surprisingly there a couple of quite nasty violent moments that'll make your eyes wince. The plot also throws in an unexpected twist at the end that's worth waiting for, but some of the editiing throughout could have been better handled as it feels a bit rushed, especially during the flashback sequences. It's a film that's better than many other supernatural asian horrors out there but it's not quite up with the best of them, it had potential though.
½
For a movie about a haunted hair-piece, The Wig sure does spring a pleasant surprise
Ilyaas Hussain
Super Reviewer
"A wig?" A woman buys a wig for her younger sister, who is tentatively recovering from disease and lost her hair during the treatment. The younger sister begins to improve remarkably, but her behavior also becomes odd and perhaps even dangerous. The Wig is precisely as scary as you'd expect a movie about a haunted wig to be. It's like the filmmakers themselves knew how lame their premise was and that it was going to be nearly impossible to make this frightening, so they only bothered to make three or four half-hearted attempts at scares before calling it a day. I'm an avowed fan of Asian horror movies, but even I have to admit that The Wig is scraping the absolute bottom of the barrel. I'll admit that the movie does pick up speed in the final 35 minutes or so (there is one bloody and creepy scene in a hospital that is probably the only memorable part of the whole flick), but it's still hard to forget that you're watching a movie about a bundle of spooky hair. The Wig is not only kinda bad, but it is also mostly boring and very unnecessary.
Gabal (The Wig) (Scary Hair) Quotes
There are no approved quotes yet for this movie.