Gajokeui tansaeng (Family Ties)
(2006)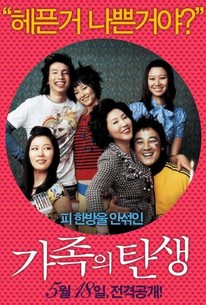 AUDIENCE SCORE
Critic Consensus: No consensus yet.
Movie Info
South Korean writer-director Tae-Yong Kim's Family Ties (Gajokeui Tansaeng) constitutes a bittersweet drama of broken and dysfunctional suburban relationships. Kim divides his narrative into three sections. In the first, horticulturist and restaurateur Mira's (Moon So-ri) gentle and ordered life gets turned inside out with a bevy of houseguests who pop in and plop down indefinitely, from her strident, chain-smoking sister-in-law Mu-shin (Goh Doo-shim), to her ex-con brother Hyungchul (Uhm Tae-woong). In the second, Sunkyung's (Kong Hyo-jin) failure to come to terms with her partially estranged mother's terminal illness brings her to the point of expatriation - a plan thwarted by her half brother. And in the third, these first two stories suddenly intersect with great volatility. Kim Hae-ok and Bong Tae-kyu co-star; Sung Ki-young co-authored the script with the director. ~ Nathan Southern, Rovi
Critic Reviews for Gajokeui tansaeng (Family Ties)
There are no critic reviews yet for Gajokeui tansaeng (Family Ties). Keep checking Rotten Tomatoes for updates!
Audience Reviews for Gajokeui tansaeng (Family Ties)
[img]http://www.vhcorner.com/movies/images/def/familyties.jpg[/img] [i]Three different stories told at different times and tied together at the end. Seen at the Portland International Film Festival.[/i] The first story is about a young woman who is excited when her brother who has been away with no communication for five years until he arrives with a much older woman has his wife. She looks old enough to be his mother. He expects his sister to take them both in while he talks about big plans, yet has no follow through. She tries to be nice to him and his new wife, but she is not happy. There is a lot of tension and build up before it all comes to a head. In the second story, another young woman is very angry at her life in general. She is trying very hard to get a job in Japan so she can move away from her family. She is angry that her mom has seemed to carry on affair after affair with married men. When she finds out her mother is terminally ill, she doesn't take the news very well. She still wants to leave, but her mother wants her to take care of her very young son she just had with one of the married men. In the third story, there is the young daughter of the wife in the first story (from a previous marriage) dating the young son from the second story, which is what ties it all together. She is very cute and sweet while he is very jealous of her being friendly with everyone. He obviously has some leftover issues with his mother. Characters from the first two parts show up in the third part in very amusing ways. I actually enjoyed the very end very much when the older characters showed up again, and everything was tied together. There were some pretty funny bits, but it was also sweet. It was very trying to get to that part though. Some of the characters were not very likeable, yet you still wanted them to be happy. I guess it worked in that sense, but it didn't make me love it.
Coni Rios
½
Película encantadora, 3 originales historias familiares contadas con mucha naturalidad gracias a su dirección y excelentes actuaciones. Me gustó bastante el trabajo realizado en la fotografí­a y música que en ningún momento intentan sobresalir por encima de los que nos están contando. Otra pequeña joya del cine coreano :)
Ignacio Araya
½
I initially only wanted to watch this movie because of Gong Hyo Jin. The three stories are initially irrelevant, but as the story unraveled, I constantly had to pause in order to think about the "Family Ties." The stories were brilliantly wound together and though I was confused at first, I finally understood the time shift. Overall, a satisfying movie, especially with Gong Hyo Jin's performance as well as the other actresses' performances. Congratulations on the heroines winning the Grand Bell Award in Greece!
Sarah Wang
Gajokeui tansaeng (Family Ties) Quotes
There are no approved quotes yet for this movie.
Discussion Forum
Discuss Gajokeui tansaeng (Family Ties) on our Movie forum!