The Gallant Hours
(1960)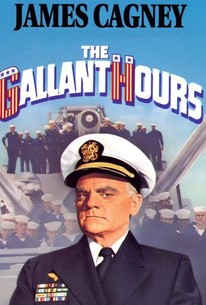 AUDIENCE SCORE
Critic Consensus: No consensus yet.
Movie Info
This World War II drama depicts more cerebral jousting than actual battle scenes. Admiral Halsey (James Cagney) and Japanese Admiral Hamamoto (James T. Goto) engage in a life and death chess game in the South Pacific in the days leading up to the battle of Guadalcanal.
Rating:
NR
Genre:
,
Directed By:
Written By:
On DVD:
Runtime:
Studio:
United Artists
News & Interviews for The Gallant Hours
Critic Reviews for The Gallant Hours
All Critics (1) | Fresh (1) | Rotten (0)
Aside from Cagney's gritty performance, the subdued biopic, shot in black-and-white and in an episodic semi-documentary style, lacks oomph and muscle.

Ozus' World Movie Reviews
Audience Reviews for The Gallant Hours
½
a much more cerebral movie than most WWII bio's. Cagney is Halsey as Fox was Charles. the focus is on the man and his circumstances with the combat as almost subliminal to the film. Robert Montgomery did a yeoman's job of work in directing this fine film.
bob weakley
An excellent, personally orientated WWII biography drama produced and acted by the great and now older James "Jimmy" Cagney. Not your ordinary action filled, shooting, grenade throwing WWII flick, this one focuses on the decision making of an admiral to save Australia from certain domination by the Japanese. At times, an intensely personal view of Admiral Halsey (Cagney). [img]http://3.bp.blogspot.com/-M6XwZvEAiW4/TeNAC4vTrKI/AAAAAAAALw4/1zqVzRi3Qf4/s1600/GallantHoursStill.jpg[/img] The Gallant Hours is a 1960 American biopic docu-drama about Admiral William F. "Bull" Halsey and his efforts in fighting against Admiral Isoroku Yamamoto and the forces of Imperial Japan in the Guadalcanal campaign in World War II. The real complaint I have about the film is that is a endless series of meetings by the generals, the staff, the soldiers that Halsey meets to discuss strategy. It seems there is no end to the strategy meetings throughout the film. While Cagney infuses tremendous personna into these personal encounters, the countless meetings make it a tough fault to ignore. James Cagney is excellent and riveting as the legendary commander of the hopelessly overburdened South Pacific forces, Admiral William F. "Bull" Halsey, in this extraordinary film that depicts his courageous actions during the Japanese war. Some try to act, some succeed, but Cagney overwhelms. Truely, Cagney is legend. The film is unique in that it has frequent brief narration about the backgrounds of the many soldiers and officers of both sides, Japanese and American. Some will die or will be wounded or will go on to have productive lives after the war. Very interesting way to do a film and seldom done. This immediately strikes us as an engrossing, tribute film that honors the bloodbath that was Guadalcanal. Not your average gung ho war flick, but a serious study of the men and their Admiral that courageously fought and died to stop the Imperial army from advancing toward Australia. The film's soundtrack has a men's chorus which adds tremendous gravity to the oncoming conflict although it becomes tiresome to hear repeatedly. Add this film to your watch list, you should find it worth the watch. Not a box office smash, it was well recieved by the critics of the time. [img]http://4.bp.blogspot.com/_gHp1HTY4xKY/TDdV414r2DI/AAAAAAAAFvo/8YRwVsM26O8/s1600/Bull+Halsey.jpg[/img] The real Halsey Reviews by the Community: 1 70% We almost lost Guadalcanal ?!! If we lost the island then communication between the US and Austrailia would end. The war would be prolonged or worse.... 2 70% EXCEPTIONAL PERFORMANCE BY JAMES CAGNEY MAKES THIS FILM VERY WATCHABLE. BASICALLY A BIOGRAPHY OF ADMIRAL BULL HALSEY. WELL WRITTEN, FINE DIRECTION. NOTES about the film: 1 The Gallant Hours depicts the crucial five-week period in October-November 1942 after Admiral Halsey (James Cagney) took command of the beleaguered American forces in the South Pacific, which became a turning point in the struggle against the Japanese Empire during the Second World War. The story is told in flashback, framed by Halsey's retirement ceremony in 1947. 2 Unusual for a war film, The Gallant Hours has no battle scenes; all the fighting takes place off-screen, and there is an emphasis throughout the film on logistics and strategy rather than tactics and combat. Fundamentally, the film becomes a battle of wills and wits between the dogged Halsey and his brilliant Japanese counterpart, Admiral Yamamoto (James T. Goto). 3 For dramatic effect, the mission to kill Yamamoto is made contemporaneous with the Naval Battle of Guadalcanal; in fact it took place five months later, in April 1943. 4 The film's coda is a quote from Admiral Halsey: "There are no great men, only great challenges that ordinary men are forced by circumstances to meet." 5 Director Robert Montogomery had served under Admiral William F. "Bull" Halsey as a Commander in the U.S. Navy during World War II, and came up with the idea of making a film about Halsey when he attended the 75th birthday celebration honoring the Admiral in 1957. Montgomery and his good friend James Cagney acquired the rights to Halsey's life story later that year, and formed a production company, Cagney-Montgomery Productions, to make the film. 6 The Gallant Hours was Cagney's last starring role in a dramatic film. Thereafter he starred in a comedy, One, Two, Three, in 1961, and appeared briefly in Ragtime in 1981. 7 As Cagney biographer John McCabe noted: "The film would be utterly boring wthout Cagney's thoughtful performance. Nowhere in his career had he been called on to do so much by doing so little." 8 TV Guide gave The Gallant Hours a three-star rating, noting: "James Cagney was the perfect choice to play Admiral Halsey." It also praised Robert Montgomery's direction that "focuses on the human side of the war, taking the time to show the inner workings of a great leader. The going is a little slow for what was thought to be a "war" movie, but it is this leisurely pace that makes the film all the more believable." 9 "Before we're through with 'em, the Japanese language will only be spoken in hell." Halsey's contempt for the Japanese was well-displayed throughout the war to the officers and sailors under his command in very successful campaigns to boost morale. [img]http://upload.wikimedia.org/wikipedia/en/d/d6/Gallant_Hours-Montgomery-Halsey-Cagney.jpg[/img] The director, Halsey, and Cagney Cast James Cagney as Fleet Admiral William F. Halsey Jr., USN Dennis Weaver as Lieutenant Commander Andrew Jefferson "Andy" Lowe III, USN Ward Costello as Captain Harry Black, USN Vaughn Taylor as Commander Mike Pulaski, USN Richard Jaeckel as Lieutenant Commander Roy Webb, USN Les Tremayne as Captain Frank Enright, USN Walter Sande as Captain Horace Keys, USN Karl Swenson as Captain Bill Bailey, USN Leon Lontoc asl Salvador Jesus Maravilla Robert Burton as Major General Roy Geiger, USMC Carleton Young as Colonel Evans Carlson, USMC Raymond Bailey as Major General Archie Vandegrift, USMC Harry Landers as Captain Joseph "Joe" Foss, USMC James Yagi as Rear Admiral Jiro Kobe, IJN James T. Goto as Admiral Isoroku Yamamoto, IJN Carl Benton Reid as Vice-Admiral Robert Ghormley, USN Nelson Leigh as Rear Admiral Dan Callaghan, USN (uncredited) Sydney Smith as Rear Admiral Norm Scott, USN (uncredited) William Schallert as Captain Thomas G. "Tom" Lanphier Jr., USAAF (uncredited) John Zaremba as Major General Hubert R. Harmon, USAAF (uncredited) Herbert Lytton as Admiral George Murray, USN (uncredited) Richard Carlyle as Father Frederic Gehring[2] John McKee as Lieutenant Harrison Ludlam, USN (uncredited) Tyler McVey as Admiral Ernest J. King, USN (uncredited) Selmer Jackson as Admiral Chester Nimitz, USN (uncredited) Stuart Randall as Rear Admiral Kelly Turner Maggie Magennis as Red Cross Nurse Young (uncredited) Art Gilmore as Narrator (Japanese sequences, uncredited) Robert Montgomery as Narrator (American sequences, uncredited) Crew Producer: James Cagney Screenplay: Frank D. Gilroy Screenplay: Beirne Lay Jr. Costume Designer: Jack Martell Director: Robert Montgomery Producer: Robert Montgomery Cinematographer: Joseph MacDonald Editor: Frederick Y. Smith Composer: Roger Wagner [img]http://www.moviegoods.com/Assets/product_images/1020/231687.1020.A.jpg[/img]
monsieur rick
One of the last of the old school war films, which emphasized patriotism, teamwork, and sacrifice. This one had a strange but intriguing storytelling style, but the Japanese parts were screwed by the use of voice over narration instead of subtitles.
Sean Chick
The Gallant Hours Quotes
There are no approved quotes yet for this movie.
Discussion Forum
Discuss The Gallant Hours on our Movie forum!