Gam-si-ja-deul (Cold Eyes)
(2013)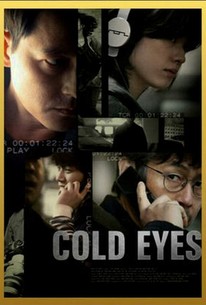 AUDIENCE SCORE
Critic Consensus: No consensus yet.
Gam-si-ja-deul (Cold Eyes) Photos
Critic Reviews for Gam-si-ja-deul (Cold Eyes)
All Critics (1) | Fresh (1) | Rotten (0)
remake of Eye In The Sky (2007) redressed in Korean clothing, Cold Eyes concerns undercover cops who blend in with the armed robbers they're pursuing, & organised criminals who are indistinguishable from crooked politicians and 'fat-ass executives'.
Audience Reviews for Gam-si-ja-deul (Cold Eyes)
Could have been far better if the editor had done his job well. Or the script writer. The cat and mouse game turns into a silly chase after a bit. There are more than a couple of sequences where I couldn't help wonder why the surveillance team needed to track the robbers while they could have been easily arrested or shot. What's the use of such team if it isn't given the liberty to arrest/shoot the robbers when there is no other police force along with them (or close enough) when needed. The performances are relatively better, though.
familiar stranger
Super Reviewer
Kim Byeong-seo delivers the eye in the sky to Korea with Cold Eyes.
For 2 hours of screen time, the plot details behind the story keep things interesting by focusing on the non-tactical area of the crime stoppers division. Never moving too fast nor too slow, Cold Eyes maintains focus from the opening to the closing credits with its cat and mouse like demeanor.
Despite the emphasis on the surveillance unit, there is a decent amount of action to liven up the so-called waiting game, although the violence is held in check without much in the way of cringe-worthy material.
Kyung-gu Sol is the life of the film, while the lovely Han Hyo-joo follows closely behind. Woo-sung Jung delivers a lot of the damage as the film goes on.
Cold Eyes is a nicely told story with solid characters to tell it. It matches well to Eye in the Sky. Simon Yam anyone?
Gam-si-ja-deul (Cold Eyes) Quotes
There are no approved quotes yet for this movie.