Gamebox 1.0
(2004)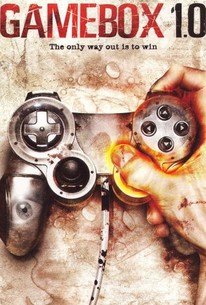 AUDIENCE SCORE
Critic Consensus: No consensus yet.
Movie Info
A reclusive video game tester discovers a revolutionary new console system with the power to feed on the player's most intimate hopes and fears in directors David and Scott Hillenbrand's virtual reality thriller. Charlie Nash (Nate Richert) is one of the best video game testers in the business, but when his girlfriend Kate (Danielle Fishel) is ruthlessly gunned down by crooked cop Ronald Hobbes (Patrick Kilpatrick) the pain of Charlie's loss becomes too overwhelming to bear. Subsequently withdrawing into his work as a means of maintaining his sanity, Charlie is surprised to find a mysterious package on his doorstep containing a console system labeled GameBox 1.0. In addition to featuring a wireless headset, the mysterious game system also sports a camera with which Charlie is encouraged to photograph his friends so they may become characters in the game. Compelled by the prospect of escaping reality and truly immersing himself in a realistic, three-dimensional environment, Charlie obliges and casts Ronald Hobbes as the main villain. As the game begins, Charlie is stunned to find his senses completely overwhelmed. Not only does Hobbes appear as a samurai warrior intent on destroying the awe-stricken gamer, but Kate also turns up in the game as a character named Princess despite the fact that Charlie never loaded her photograph into the system. Frightened by the unnerving development and disturbed to feel real pain when he is injured in the game, Charlie realizes that the game is feeding on his memories and immediately turns the system off. Once started the game must be played to completion, however, and after suffering a disorienting series of hallucinations Charlie slips into a coma from which the only escape is to defeat the evil samurai while leading Princess through a formidable gauntlet of dangerous levels including an alien war zone, a zombie-infested forest, and a lawless concrete jungle.
Rating:
PG-13
Genre:
,
Directed By:
Written By:
On DVD:
Runtime:
Studio:
Hill & Brand Entertainment
Critic Reviews for Gamebox 1.0
All Critics (1) | Fresh (1) | Rotten (0)
If you're a hardcore video game junkie and you've got a soft spot for scrappy little indie flicks, I'd call Gamebox 1.0 worthy of the rental fee.
Audience Reviews for Gamebox 1.0
½
Not a great movie, but decent idea and it starred both Topanga from Boy Meets World and Harvey from Sabrina...
Michael Patalano
Ah, another movie featured around video games. These are usually very hit or miss, but this one I find more of a hit. The movie is featured around a guy who has buried his life in video games since his girlfriend died and doesn't seem like likely to change his depressing routine. He is sent a virtual reality game in the mail, and after trying it out he learns the game has a mind of its own, and it seems to want to force Charlie to play to the end, that's if there is an end. The movie is colorful and has a huge video game feeling when in the game world, that is due to the creators doing everything in their power to mix video game art style into the scenes. From camera angles moving from first-person shooter style and plenty of other camera techniques along side the heavy virtual style to it, there's enough here for any gamer to say it looks like a video game. The movie's first half seems to be more in the real world, and the second half in game world. All I know is it flows nicely and switches off when it needed to. I also liked just how the game world worked, as in the functions they gave to the Charlie. Because the game is in his mind, his thoughts and memories were integrated with the surroundings. Also when he felt pain, he really felt pain as it was part of his conscious. He wasn't given extra strength and he could act with anything around him. There were no limitations, as the game tells him. The game speaks to him during the film multiple times, and has a personality as well as a mind. It seems to fuck with him in all corners it can, but it does seem to have backward moments at times. It feels like it wants him to die, but wants to help him at times, but in the end it doesn't seem to have a vendetta, and just does its job. But the game is a character, and a good one at that. What I don't get is why the cover of the movie is a tattered controller when there was never a controller involved in the film except when people were playing video games. But anyway the game itself is a worthy antagonist, and not the only good character. The main characters are good and have good actors. Charlie was always thinking the same as me and did the job every protagonist should use. He was relatable, and with the message of the story his character had a good ending. The game's resolution I actually really like and had good closure for everybody. The theme, the acting, the story, and much more of the movie just did a really good job, and I'm pretty sure these guys got some inspiration from Tron. Anyway I find this a really underrated movie since I've really never heard anyone else talk about it, and I would actually like a sequel even though it'll never happen. Anyway definitely watch this movie and if you like it add it to your collection like I did.
Christian Solberg
With an intriguing premise, and a hopeful direction, this film was really, really bad. Full of jaded acting and poor special effects, avoid at all costs.
Brandon Blackwell
Gamebox 1.0 Quotes
There are no approved quotes yet for this movie.