Gamera 2: Assault of the Legion (Gamera 2: Region shurai)
(1996)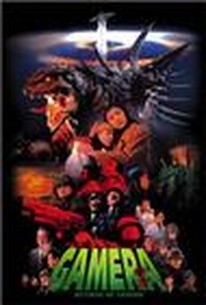 AUDIENCE SCORE
Critic Consensus: No consensus yet.
Movie Info
A freak electrical storm near Sapporo, Japan rains down chaos, leaving Gamera the only hope for the desperate population in this latest installment of the long-running kaiju series. As meteors and lightning crash to the earth, the citizens of Sapporo are shocked to discover that the sky has delivered a deadly alien menace to the planet that aims to wipe out the human race and claim the globe for a frightful race of menacing mutants. While local science instructor Midori Honami (Miki Mizuno) and Colonel Watarase (Toshiyuki Nagashima) combine forces on the ground to combat the powerful invaders, Gamera takes to the sky to face his most challenging foe yet. ~ Jason Buchanan, Rovi
Rating:
NR
Genre:
, , ,
Directed By:
In Theaters:
Runtime:
Critic Reviews for Gamera 2: Assault of the Legion (Gamera 2: Region shurai)
All Critics (2) | Top Critics (1) | Fresh (1) | Rotten (1) | DVD (1)
What the film does boast that sets it above all the movies with similar plots is Kaneko's strong guiding hand and clear awareness of what he wants the movie to be.

Audience Reviews for Gamera 2: Assault of the Legion (Gamera 2: Region shurai)
The sequel continues the first movies success and is a fun monster movie from beginning to end. While its effects work isn't on a Hollywood level its all effective to deliver monster on monster brawls fans of the genre always get a kick out of. Its odd that this rebooted series turns a lame children's character into a baddass defender of the Earth but I dig it
Jim Arapostathis
½
Not since August of last year have I seen another Gamera film and it's about time I revisit my favorite flying giant fire breathing turtle. The last time I saw Gamera he was in a well made reboot that I enjoyed. This sequel is better than most of the entry in the series, but it's a downgrade from it predecessor. Gamera 2 (actually the tenth entry): Assault of the Legion has Gamera saving Japan from rapidly reproducing insectoid creatures know as Legion. You got that summary because that's nearly every single conversation in a nutshell. The conversations are very repetitive. The humans are talking about the same thing and constantly reminding us Legion is the evil creature. The plot is the weakest point because the monsters get the most development and they are barely on screen. Not a single human character is fleshed out despite taking up 9/10 of the film. This film carries the lack of logic associated with the series as only one time does a military soldier uses his gun against a monster. The plot is serviceable, but the humans repetitive conversations get boring and is very light on actually having monsters on screen. As usual with almost every Gamera entry the monsters are the highlights. Gamera costume looks good and manage to make a giant turtle look cool. As always Gamera does something that sticks with you weather good or bad. This time Gamera was able to create a huge fire blast by opening up his chest. How does that even work? The costume for the Legion creature was okay. It looks like a combination between a small centipede and crab. The movement of Legion was also clearly limited resulting in lack of creativity for the fights. The CG was sub-par for the smaller stuff like a fire-ball or tiny group of insectoid monsters. It's the larger stuff like Gamera flying that look dated. What about the monster fight? Fun with plenty of explosions, but way too short. Legion costume restricts movements preventing the creatures to get close and hit one another. The fights mostly consist of projectile attacks which destroy a good chuck of the environment. Even just throwing around projectile can get boring. Gamera 2: Assault of the Legion contain repetitive conversations and lack of actual monsters on screen guarantees those who do not sees monster flick will enjoy it. I only recommend this for the fans of the series and fans of monster flicks because they might tolerate the negative to see some monster action. Otherwise just skip it.
Caesar Mendez
Super Reviewer
½
If "Guardian of the Universe" was "Batman Begins", then this film is "The Dark Knight". It did not seem possible, but this movie manages to be infinitely better than its predecessor, which was already a great film. The visual creativity is astounding, using a variety of techniques from models, monster suits, digital effects, to even stop-motion. The story combines spectacle with human drama in way that is seamless and engaging, a great feat for a movie of this genre. Legion makes for a great foe, he constantly surprises with his different abilities. Even if you are not a fan of japanese monster flick, this should still be checked out because it truly is an exhilarating experience from beginning to end. A perfect monster movie that can actually hold a candle to the original Godzilla movie.
Christopher Heim
Super Reviewer
Gamera 2: Assault of the Legion (Gamera 2: Region shurai) Quotes
There are no approved quotes yet for this movie.
Discussion Forum
Discuss Gamera 2: Assault of the Legion (Gamera 2: Region shurai) on our Movie forum!