Gamera 3: Revenge of Iris
(1999)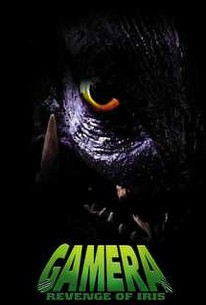 AUDIENCE SCORE
Critic Consensus: No consensus yet.
Gamera 3: Revenge of Iris Videos
Gamera 3: Revenge of Iris Photos
Movie Info
Daei studio's answer to Toho's wildly popular Godzilla, Gamera -- a monstrous fire-breathing turtle -- appeared numerous films from 1966 until 1971. In 1995, he made his triumphant return with Gamera Daikaiju Kuchu Kessen (Gamera: The Guardian of the Universe) which featured slick new special effects, a smart script by Kazunori Ito, and sharp direction by Shusuke Kaneko. Gamera 3 opens with scientist Mayumi Nagamine (Shinobu Nakayama) finding the corpse of a Gyaos in a remote Fillipino village. Cut to teenage girl Ayana (Ai Maeda), who is forced to live with her relatives in a rural village near Nara after Gamera killed her parents. One day, a gang of bullying classmates forces her to venture into a cave that supposedly houses a demon. Instead, she finds a rock that lights up at her touch. Later, a tentacled baby beast emerges from an adjacent egg; Ayana cares for it and names it after her dead pet cat, Iris. This, she surmises, could be her means of vengeance against Gamera. Meanwhile in Tokyo, Mayumi attends a meeting of the Monster Damage Control Committee. There she meets the creepy government astrologer Mito Asakita (Senri Yamasaki) and her simpering colleague, an extraordinarily creepy game designer (Toru Tezuka). Just as the meeting is about to commence, a Gyaos attacks Tokyo with Gamera in hot pursuit. Soon, a train station is blown up, glitzy buildings are trashed, and Gamera is dubbed enemy number one by the government. Back in Nara, Ayana finds the desiccated shells of animal as her pet monster has grown to the size of a house. Yet in order for it to reach its full strength, it fuses with its adoptive mother in a manner that is incredibly slimy. Later, Asagi Kusanagi (played by Steven Seagal's daughter Ayako Fujitani) -- the protagonist in the previous two Gamera films -- returns from studying abroad to help Mayumi and Gamera thwart this new villain, Iris. This film was screened at the 1999 Toronto Film Festival. ~ Jonathan Crow, Rovi
Rating:
NR
Genre:
,
Directed By:
In Theaters:
On DVD:
Runtime:
Studio:
ADV Films
Critic Reviews for Gamera 3: Revenge of Iris
All Critics (2) | Fresh (1) | Rotten (1) | DVD (1)
One of the finest Japanese monster movies... nuanced in its story and character, bold in its visual dynamism.

Audience Reviews for Gamera 3: Revenge of Iris
This really is the best giant monster film since the first Godzilla, being by turns violent, weird, and awe-inspiring. It would be a 9 out of 10 but the ending is bad.
Sean Chick
The 90's Gamera trilogy, often referred to as the Heisei Gamera series by fans, is often looked upon as a silent standard amongst modern monster movies, particularly in the realm of special effects. This is also a result of the refreshing direction taken by Shusuke Kaneko, with a deliberate balance and connection between the human and monster element of the story, something that the modern Transformers movies could benefit from. Gamera 3: Incomplete Struggle, which is my preferred of the film's many titles, is the best entry in the trilogy and often praised, by those who bother with giant monster movies, as one of the best, or even the best, of its genre. While I would not take it that far, I do agree that this is the strongest Gamera film to date, boasting many beneficial elements not found in most giant monster movies and giving this trilogy the rare distinction of improving with each installment (the only other examples of this that I can think of are the Lord of the Rings and Star Wars prequel trilogies). As befits any good sequel, Gamera 3 continues the story of the previous entry, but it approaches this in an interesting manner. The sequence immediately following the opening credits introduces us to the character Ayana, who is supposed to be the protagonist and has great enmity for the lead monster due to his part in the death of her parents four years earlier. About half of the rest of the film follows her interactions with another monster, which she names Iris, and her intended plans to use it for revenge. What I find to be neat about his approach is that it helps emphasize the theme of consequences by revealing another part of the story that reaches back to the first installment, allowing this movie to connect to the previous two on multiple fronts. This also should help the film mitigate any negative effects from the objective of "tying up loose ends", which can hamper the strength of the story when it becomes the dominant objective; this is the primary problem with such second sequels as The Godfather Part III and Return of the Jedi, both of which are still very good. Beyond this, it is also noteworthy that the consequences from the previous two films are even referred to, as it is practically a staple amongst giant monster films to pretty much ignore any obvious long-term damage brought about by attacks of that magnitude, and it is that attention to detail that brings a sense of quality to Kaneko's monster films that is mostly absent from others in their own line. Unfortunately, there is another problem that was picked up: the portion of the story dealing with Ayana is really not that interesting. When I first heard that a human character was going to try and raise a monster and actually develop a connection with it, I was intrigued. It was a great concept that would allow the monster a greater degree of character, but the execution felt rushed and incomplete. While we get plenty of exposition regarding how Ayana feels and the effects that she and Iris have on each other, the time that she spends actually "raising" the monster is too short for everything to really sink in. What would have been more effective is if Ayana had found Iris sometime between the first and second films, shown in flashback, and as a result her personality becomes more sullen and bitter as the years roll by. This would have allowed a better idea of the negative effects that her hatred for Gamera brought, and also would have averted the fact that the character herself is one-note. She is only defined by her single minded hatred for Gamera. Truly, just about anything related to her part of the story drags down the potency of whatever is happening. For example, during the climax in the train station the moment where Ayana's friend tries to defend her from Iris only to get thrown back several yards is...hilarious. There are also several plot points that lack either significant follow through or sufficient explanation. The introduction of the monster Iris, as well as the discovery of the graveyard under the ocean, brought the opportunity to expand upon the origins of Gamera and the Gyaos, but all we get are outlandish speculation from one very unsettling character. Frankly, there were many moments in the film when I felt pressed to wonder what certain details meant or what the point was of bringing up certain individuals, and coming from someone who has seen the movie about eight times that is notable. The most engaging parts of the story follow the investigations of Mayumi Nagamine, who manages to provide many of the key details and developments. It is also because of her that we see another aspect of this film that is not seen virtually anywhere in the giant monster genre: actual relationships amongst the characters. Over the course of the Gamera 3, we see her come across other characters from the previous two films and as a result there is actual development in their stories. Ayako Fujitani is especially interesting as Asagi and it is a real shame that she only appears for the latter portion of the film. This element was, sadly, absent from the more famous Heisei Godzilla series, which for some unknown reason was never able to retain members of its cast between films, with the exceptions of Megumi Odaka and Akira Nakao. Where Gamera 3 really shines is its special effects, which are rightfully considered a gold standard within this genre. While those seen in the most modern monster movies, such as King Kong and Godzilla 1998, are more sophisticated, the ones here are just as convincing. In fact, while the American Godzilla looked more real and had greater freedom in mobility Gamera feels more real, mostly due to some effective camera work and an amazing looking suit. The use of CGI, while no more convincing than half of what is seen today, is properly used when necessary, such as during an innovative flying battle between Gamera and Iris. In fact, it is noteworthy that giant monster movies, cheesy as they may be, consistently make appropriate use of CGI to enhance action scenes instead of create them, which big budget blockbusters rarely get right. The two action sequences are easily the highlights, providing some of the most impressive images of destruction the genre has to offer, particularly from the explosions of Gamera's plasma blasts. The 30 minute final act delivers a great dose of this, bolstered by an appropriate degree of emotion, an indoor setting and some rather innovative shots that emphasize the monsters' size by showing things from the point of view of the humans. Two moments in particular that I have never forgotten are when Gamera and Iris crash through the train station and the fiery transition between Gamera, Iris and Ayana before the fight. The climax may be construed as the only true accomplishment of "Gamera 3", as it contains virtually everything that makes the film stand out within the kaiju genre. The rest of the film contains its fair share of atmospheric and even creepy moments, with Kaneko's direction more assured than before, but the sometimes choppy exposition and constant reminders of a crisis never at the forefront hamper the intrigue. I recommend this movie, given that some of the more traditional moviemaking techniques it contains allow it to appeal even to those who are not fans of this genre. While it suffers from some unevenness in its storyline, it still deserves to be applauded and even emulated because it serves as a testament that great results can come from a balance in traditional and modern special effects.
Genaro Contreras
½
The final entry in the Gamera Trilogy (Guardian of the Universe, Attack of Legion) and it is not only the best movie in the trilogy but also one of the greatest monster flicks ever made. This movie breaks all the stereotypes of japanese monster flicks with a very grim tone, thought-provoking plot, and deep human characters. The effects that the monster fights have on cities and people is at the forefront of the story. Seeing people get crushed and blown away while Gamera fights two Gyaos creatures is shockingly unusual in a monster flick. This film also has the best Gamera suit, which makes him look very mean and scary. Iris is probably Gamera's greatest foe, he is just pure evil. The effects are just as stunning as ever, and the final battle between Gamera and Iris is probably one of the bloodiest monster battles ever. This movie is certainly not for kids. Unlike the previous two flicks were they wrapped everything nice and tidy, the ending to this flick is dark and pretty depressing. However, that's what makes this film so great, its refusal to leave the viewer with easy resolutions. This film takes the giant monster movie genre into new levels of cinematic art and sophistication.
Christopher Heim
Super Reviewer
Gamera 3: Revenge of Iris Quotes
There are no approved quotes yet for this movie.
Discussion Forum
Discuss Gamera 3: Revenge of Iris on our Movie forum!