Gamera tai Daimaju Jaiga (Gamera vs. Jiger)(Monsters Invade Expo '70)
(1970)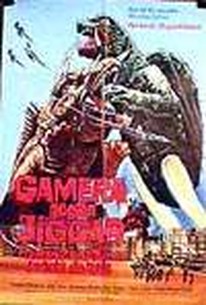 AUDIENCE SCORE
Critic Consensus: No consensus yet.
Movie Info
When an ancient statue is moved for display in World Fair Expo 1970, a giant, vaguely Triceratops-like monster is released. The giant creature attacks and it's up to Gamera to stop it.
Critic Reviews for Gamera tai Daimaju Jaiga (Gamera vs. Jiger)(Monsters Invade Expo '70)
Audience Reviews for Gamera tai Daimaju Jaiga (Gamera vs. Jiger)(Monsters Invade Expo '70)
½
Jiger is one of Gamera's toughest foes. She can fly, has suction cups on her hands, can shoot deadly spears from her horns, has a stinger, and can shoot a lethal death ray. One thing about Jiger that makes her impressive is she is one of the few four-legged kaiju's that actually walks on all four legs. Barugon and Guiron were obviously just crawling, despite filmmakers attempts to hide this fact. The effects have improved from the last two entries, although they still pale in comparison to the special effects in Toho kaiju flicks. However, the movie makes up for this with outstanding action sequences and decent human characters. Their is plenty of city-destroying monster action to go around and the fighting between the two title monsters are fun to watch. That is not to say this movie doesn't still have its weird moments, like a sequence were the children go inside Gamera's body to remove a parasite injected by Jiger. It's a bit childish at times but this film is a very enjoyable campy monster flick for all the young at heart.
Christopher Heim
Super Reviewer
½
After watching the last two Gamera entries I expected this one to be just as bad considering the series doesn't have a good track record with me. It turned out better than I expected, though that's not saying much. Gamera vs. Jaiga is about Gamera battling the now awaken Jiger after the humans move a statue for a expo. The story still has some problems and is over the top at times, like how Gamera has a baby monster injected inside him. There's also some scientific explanation, but you won't pay attention to that since it's boring. Though I will say this mmovie does take you to an unexpected place, which happens to be inside of Gamera body. One major improvement is that we get to see more of the monsters, though it's disappointing there's no buildup behind these monsters being revealed or even energy when they rumble. Unlike the last children friendly Gamera, the kids in this one aren't as annoying and there is some unintentional funny moments.The human characters are slightly improved, for starter they're actually watchable and somewhat interesting. Yet, somehow the writers left any character development and you bother care to care them either. While it certainly won't gain any new fans to the series, it's certainly better than most the previous releases. Now to be clear, don't go into this expecting some great effects in this Kaiju movie. I know it been a while since I last saw Gamera and boy did I cringe when saw I the terrible costume. Once you get past the laughably bad monster costumes, you get to enjoy some bad monsters rumble. Sure they're bad, but they have a comedic values that should make you laugh. There's a lot comedic moments from the monsters, like when Gamera uses power poles to cover his ears, or when Jiger fly for the first time without moving his body. Moments like these are what make the Gamera series enjoyable. Also for fans of the series, this Gamera contains a majority of new footage and doesn't uses stock footage as much as the last two entry. Gamera vs. Jaiga might not have good acting, is terribly dubbed, but it does have comedic entertainment. Gamera vs. Jaiga is certainly a bad movie that will certainly provide you some laugh. It's not the best in the series, but it's certainly one of the better Gamera movies and is worth watching just to see some good monsters rumble.
Caesar Mendez
Super Reviewer
½
Great Gamera action. Tough opponent, plus a journey inside of Gamera. What more can you ask for.
Anthony Valletta
Super Reviewer
Gamera tai Daimaju Jaiga (Gamera vs. Jiger)(Monsters Invade Expo '70) Quotes
There are no approved quotes yet for this movie.