Gandhi, My Father
(2007)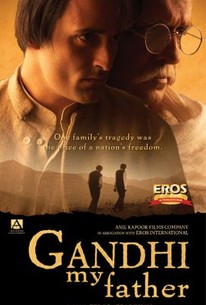 Movie Info
Filmmaker Feroz Khan explores the tragedy of a man who transformed the soul of a nation, but could not provide salvation for his own flesh and blood. Mahatma Gandhi was known in life as "The Great Soul" -- the "Father of a Nation." But while Gandhi's peaceful form of civil disobedience led India to independence and inspired civil rights movements across the globe, his eldest son, Harilal, was wandering the streets of India destitute and conflicted. His father's identity the bane of his existence, Harilal converted to Islam as an act of rebellion, reconverted back to Hinduism as an act of penance, and eventually succumbed to the devastating effects of alcoholism. As racial hatred raged in South Africa and colonial humiliation ran rampant in India, a personal tragedy that few but Mahatma Gandhi's closest companions knew about was consuming both father and son from the inside out. ~ Jason Buchanan, Rovi
Rating:
PG
Genre:
,
Directed By:
Written By:
In Theaters:
On DVD:
Box Office:
$174,425.00
Runtime:
Studio:
Critic Reviews for Gandhi, My Father
Audience Reviews for Gandhi, My Father
½
This Indian film by Feroz Abbas Khan explores the troubled relationship between Harilal Gandhi (Akshaye Khanna) and his father, Mahatma Gandhi in somehow neutral way, while shedding light onto Gandhi the person! Father and son with dreams directed in opposite directions are often in a conflict even when fighting side by side for their ideals and causes. I watched this movie because of the screenplay which was something exceptional, petty that the director managed to take the really good screenplay and make such a mediocre movie! The screenplay won the 2007 Asia Pacific Screen Award and that should be the only thing remembered... everything else was just average or below average. Don't waste over two hours if you have anything better to do!
½
The film is about the life of Harilal Gandhi, a son whose tragedy was to live with in the shadow of a man who was father not just to him, but to a whole nation. In it's attempt to preserve the iconic figure of Mahatma Gandhi, it feels like the film failed to capture the real emotions and struggle between a father and son. Although we do get to see a different side of Gandhi which was never attempted in any movie adaptations before. Shefali Shah and towards the later parts of movie, as the older familiar version of Gandhi, Darshan Jariwala too excells in their role. This was a story which had to be told, and considering the magnitude of this movie, certain minor glitches can be forgiven.
While reading a collection of Gandhi's writings I came upon a mention of his son having converted to Islam. I was very surprised since Attenborough's film had completely skipped over any children and so I couldn't wait to see this film when I learned of it. I was expecting them to have had some sort of violent, acrimonious parting, but that doesn't really seem to have been the case. The story is an old one though; very successful Dad expects son to go into the family business but son wants to do something else and this inevitably drives a wedge between them. The main difference is that here the son wants to be what his Dad USED to be (namely a Barrister) and Dad's new business is Self-Sacrificing Servant of the People. The son (Harilal) follows obediently through the early years in South Africa, all the while quietly harboring a small grudge because others are given what he feels should be his, but he never gives up his dreams of accomplishing something big and impressing Dad--never realizing what it would really take to do that. Its a sad story of a father and mother whose arms are always open to welcome back a son who just can't stay out of trouble and uses the family name to steal money from others. Its also the story of how a great man can be a father to millions who have never seen him, but can't really connect with a child born of his own blood. My one problem with the film was the casting. So much depended on Akshaye Khanna as Harilal, and to me he was inadequate. He had one expression that resembled nothing so much as cocker spaniel that has just been caught urinating on the carpet. However Shefali Shah as Hari's mother is truly the shining star in this film. Her suffering as she tries to hold her family together is poignant and resonates with all audiences.
karen shaub
Gandhi, My Father Quotes
There are no approved quotes yet for this movie.
Discussion Forum
Discuss Gandhi, My Father on our Movie forum!