Gangs of the Dead
(2006)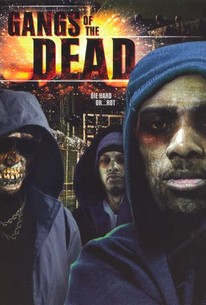 AUDIENCE SCORE
Critic Consensus: No consensus yet.
Movie Info
When a meteorite containing a zombie-spawning spore crashes in the City of Angels, the survivors of the impact must put aside their differences in order to fend off the flesh-eating masses in this tale of urban apocalypse starring Phantasm's Reggis Banister. As two rival gangs converge on an empty Los Angeles warehouse, the stage is set for violence and mayhem. But this isn't any ordinary gang fight, because these thugs have an unearthly taste for human flesh. Now, if they have any hope of fending off the advancing horde of the undead, the toughest gangsters in the neighborhood will have to put their differences with the LAPD aside long enough to aim for the head and formulate a solid escape plan.
Rating:
R (Strong Violence and Gore, Pervasive Language, and Brief Drug Use)
Genre:
,
Directed By:
Written By:
In Theaters:
On DVD:
Runtime:
Audience Reviews for Gangs of the Dead
Spoilers Ahead.....Maybe? Gangs Of The Dead was alright.It's not a movie I'd ever watch again or buy & I'm not sure if I'd recommend somebody go see it (Maybe if NOTHING else is on) I definitely wasn't expecting to like it at all but I did & I have no idea why.It started off pretty good (That meteorite striking the bridge did look pretty cool) but fell off towards the end.I still enjoyed watching it though.My main thing with Gangs Of The Dead is that you would think a bunch of gangbangers would be able to band together (With the police as well) No matter how much they hate each other & try & fight the zombies trying to get into the warehouse to eat them alive.I think any group of people would at a time like this.Gangs Of The Dead isn't a movie I'd go out searching for but if you're able to see it for free, Why not?
Brody Manson
Super Reviewer
Gangs of the Dead (Dwayne Stinnett, 2006) If you're like me, you're probably here because you saw Reggie Bannister's name and said "okay, Reggie Bannister's in it, might as well give it a shot." I've been finding over the past few years that Reggie Bannister, when not paired with Don Coscarelli, is not enough reason to watch a movie. This was just the final nail in a coffin sealed by such forgettable tripe as The Rage, Sigma Die!, Fallen Angels, and Wishmaster. Plot: you know how there was that one test you didn't study for in high school, and you spent the entire day until seventh period hoping the zombie apocalypse would happen and get you out of it? Yeah, it's kind of like that, except the "test" in question is a major drug deal where the cops have managed to score front-row tickets to a score that can put cuffs on big names from two huge rival gangs, or so they think, until the zombies show up. After that, it becomes just another run-from-the-zombies movie, indistinguishable from dozens of others, except in the places where most of those others are better. That, of course, is the problem with basement-budget horror films whose directors are out to make a quick buck-they're not putting any effort into thinking up something interesting to do with the story, the effects, anything. It's just a question of assembling the various parts of a bunch of other movies in a slightly different order, troweling on some vaguely decomposed-looking makeup, and shooting something that can be stuck on a DVD and sold in one of those eighty-packs of low-budget horror movies you can find at Best Buy for twenty bucks. I guess, considering the source, I can't ask for much, but even with no-budget specials, you occasionally get a movie that really does something interesting with the script (Oxygen is a good example) or where the director at least cared enough to sift through until he found some really good actors to work with (Noctem). This feels like an assembly-line production at best. Skip it. *
Robert Beveridge
Well, I tried. This was bad, I gave it a chance and it sucked away my will to watch. 12 minutes was long enough.
Chris Cooper
Gangs of the Dead Quotes
There are no approved quotes yet for this movie.
Discussion Forum
Discuss Gangs of the Dead on our Movie forum!