Gappa the Triphibian Monsters
(1967)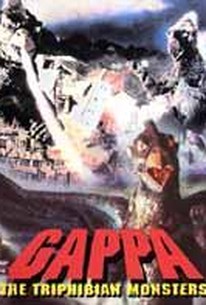 AUDIENCE SCORE
Critic Consensus: No consensus yet.
Critic Reviews for Gappa the Triphibian Monsters
There are no critic reviews yet for Gappa the Triphibian Monsters. Keep checking Rotten Tomatoes for updates!
Audience Reviews for Gappa the Triphibian Monsters
½
[b][u][size=3]Friday, October 6[/size][/u] 22. Gappa, the Triphibian Monsters (a.k.a. [/b][b]Daikyojû Gappa, [/b][b]Monster from a Prehistoric Planet).[/b] (1967) Nothing like a movie title that needs a comma. Are there any really good flicks with commas in the title? I can't think of one. This sure ain't one! Well, it ain't all that bad really. I think younger children who like classic Japanese monster movies would get a genuine kick out of these funky bird/reptile/fish creatures that stomp on buildings and scare many many asians. I thought it started very slow and picked up a bit in the middle. It's nowhere near as exciting as something like [i]King Kong Vs Godzilla[/i]. It's like they were compensating for having just one monster by making it a combination of something so rediculous as the 3 mentioned. It has wings, comb & beak, long (possibily detachable) tail and can shoot the breeze under the ocean with the fishes. Kids everywhere will scream "COOL!" at the TV screen. Oh, as the opening credits played I noticed it said "[i]so and so[/i] as MALE GAPPA....[i]so and so[/i] as FEMALE GAPPA". I didn't know what to think. They look just alike to me. I guess if you added breasts you'd have to make it a Quadphibian as it'd be a mammal too, with fur and such. They didnt wanna go there, I guess. :( But soon the little baby GAPPA snuggles with one of the larger ones while another looks on...and you kind of know who's who at that point. Awwwwwww.... :) :p Anyway, you can giggle while the smaller ones kind of enjoy this simple Japanese monster movie. 5/10 [img]http://images.rottentomatoes.com/images/user/smilies/rotten.gif[/img] (do-it-yourself MST3K 8/10) [b]Trivia: [/b] Fans of the british classic TV comedy [i]Red Dwarf[/i] will recognize the Gappa since they are featured during the opening credits of many episodes. [IMG]http://i3.photobucket.com/albums/y65/radioman970/gappa2.jpg[/IMG] [size=1]I forgot they have built-in blow-torches. COOOOOL!![/size] [IMG]http://i3.photobucket.com/albums/y65/radioman970/gappa.jpg[/IMG] [size=1]Bottom Gappa: "I'm about to go all Foghorn Leghorn on your ass!"[/size] [b]23. Coming soon! [/b]It stars Jack Nicholson....;) I'm still stuck at work. :(
James Perry
Gappa the Triphibian Monsters Quotes
There are no approved quotes yet for this movie.
Discussion Forum
Discuss Gappa the Triphibian Monsters on our Movie forum!