Garde à vue (The Grilling)
(2001)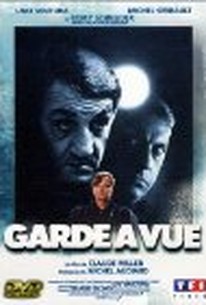 AUDIENCE SCORE
Critic Consensus: No consensus yet.
Movie Info
The stark setting of a police interrogation room is used to maximum effect in this tense, twisting standoff of a film, where the lone suspect in a double murder case is confessing nothing. The Inspectors grill him mercilessly and matters only get further complicated when his estranged wife appears.
Critic Reviews for Garde à vue (The Grilling)
There are no critic reviews yet for Garde à vue (The Grilling). Keep checking Rotten Tomatoes for updates!
Audience Reviews for Garde à vue (The Grilling)
In "Garde A Vue," it is a dark and stormy night. But since this is New Year's Eve, Jerome Martinaud(Michel Serrault), a 50-year old attorney, has better places he'd like to be than a police station. For Inspector Gallien(Lino Ventura), who is investigating the rape and murder of two young girls, that's just too bad, as he has some questions he would like Martinaud to answer since he found one body and was in the neighborhood of the other. Admittedly, as he confides to his colleague Inspector Belmont(Guy Marchand), he thought by the file that Martinaud was their guy but after talking to him, he's not so sure. In any case, Gallien invokes preventive detention to keep the conversation going a bit longer. "Garde A Vue" is an influential movie on so many procedurals(this was made in 1981, by the way), as it employs a dark wit to mask the seriousness that comes with its cat and mouse games of two adversaries scoring occasional victories against each other. That's not to mention not one but two kickers which is very impressive.(The East German judge doesn't think so but what can you do?) As the movie goes on, it slowly reveals much not only about Martinaud, but about us and the shame that marks out lives which goes beyond why just dog people and cat people should never marry.(I'm open minded but there are limits.) I should warn you if I go any further in talking about the moral of the movie, then that would definitely be telling.
Garde à vue (The Grilling) Quotes
There are no approved quotes yet for this movie.