Garden Party
(2008)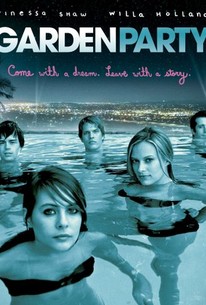 Movie Info
Filmmaker Jason Freeland draws inspiration from the eponymous song for this tale of five lost souls attempting to navigate the treacherous urban landscape of contemporary Los Angeles. April is an ambitious beauty in search of success, but can she learn to get by and keep on her clothes at the same time? Sally St. Clair is a sexy realtor with a secret past. She's got a great eye for spotting lost souls, and thrives on giving them direction in life. One of those lost souls is Nathan, her new assistant. Nathan moved to Los Angeles from Nebraska seeking to find success as a dancer, but now most of his time is spent making photocopies for Sally and her clients. One of those clients is Todd, a porn-addicted artist who agrees to help Sally get revenge for a past indiscretion in exchange for her helping him realize his greatest fantasy. Meanwhile, as starry-eyed street musician Sammy moves in with Nathan, the new roommates both have disparate ideas about the direction their relationship is headed, and everyone involved becomes hopelessly ensnared in Sally's kinky entanglements. ~ Jason Buchanan, Rovi
Rating:
NR
Genre:
,
Directed By:
Written By:
In Theaters:
On DVD:
Runtime:
Studio:
Critic Reviews for Garden Party
Audience Reviews for Garden Party
Willa Holland plays April who runs off to Hollywood to escape from her sleazy step-father. There, she is introduced to an even sleazier fellow, a photographer who offers her cash to pose naked for the camera. She does what she has to in order to survive, as do Nathan, a farm boy from Nebraska who dreams of being a dancer, and Sammy, an aspiring singer. The only person to make this film interesting is the gorgeous Vinessa Shaw. She plays Sally St. Clair, Internet nudie turned tough-as-nails real estate agent who has a soft spot for teenage drifters, especially ones who will tend to her marijuana plants. The other characters seem to wander through life aimlessly, casting shame and good sense aside while avoiding, entertaining, or humoring their predators. [b]Garden Party[/b] is a plain movie with equally plain characters that starts off painfully slow. It never fully satisfies. Certain vignettes end abruptly and new ones are introduced haphazardly. If anything, this film serves as a warning to young people with dreams of making it big in Hollywood. It isn't a fairytale journey and the Big Bad Wolf is lurking around every corner. [url="http://rottentomatoes.com/member/scarletheels"]Rotten Tomatoes Profile[/url] / [url="http://scarletheels.com/archives/category/moviestv/reviews_movies"]My Movie Reviews[/url]
MiYon Richardson
Garden Party has the feel of a made-for-TV look at life in Los Angeles. The actors and actresses that we've grown accustomed to seeing in the passenger seat are given semi-leading roles. Vinessa Shaw is sexy and sultry, allowing for the possibly the only stand out performance of the film, though Willa Holland of The O.C. fame stands her ground comfortably.
Christopher Haskell
Super Reviewer
not the greatest movie, not the greatest acting, and not nearly as gritty and graphic as it seems to attempt to be this very raw kinda movie, the story however feels almost as if there is no story other than lets see six peoples lives just convinently intertwine with one another and how life is just a one vicious cycle. the problem with this is that is without a doubt a good premise maybe one that has been done to death but good none the less, the problem here is that it needed to be a more aggresive, raw, and dark film with a sense of hope at the end even when the evil cycle was prepared to start again. that is the true flaw of this movie. it did however hold my interest and it can hold most peoples but this is one that if you hadnt seen it its really just ok im sure youll find a similiar movie that is most likely better than this one.
George Izquierdo
Garden Party Quotes
There are no approved quotes yet for this movie.
Discussion Forum
Discuss Garden Party on our Movie forum!