GasLand
(2010)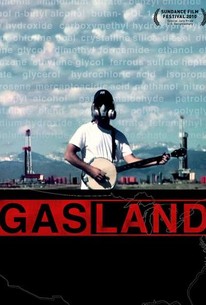 Movie Info
Can you imagine being able to light your tap water on fire? This is just one of the many shocking results due to the natural gas drilling boom which has swept the United States. The Halliburton-developed drilling technology called hydraulic fracturing or "fracking" has unlocked a "Saudi Arabia of natural gas" just beneath us. But is fracking safe? Part verite travelogue, part expose, part mystery, part bluegrass banjo meltdown, part showdown. Josh Fox encounters EPA whistleblowers, congressmen, world recognized scientists, and some of the most incredibly inspiring and heart-wrenching stories of ordinary Americans fighting against fossil fuel giants for environmental justice.
News & Interviews for GasLand
Critic Reviews for GasLand
Audience Reviews for GasLand
We are all seriously fucked. That is all I have to say about this film that will should have bested all others at the 2011 Oscars for Best Documentary. Horrifyingly amazing.
Matthew Roe
Super Reviewer
½
Scary and shocking, Gasland opened my eyes to the practise of Hydrolic Fracturing or "Fracking" and it's effects on the groundwater and on the people who are affected. The statistics and the footage of interviews and conferences, are just so upsetting to see. How can people be treated this way?? Gasland is a documentary you do not want to miss.
Raymond Wieser
Super Reviewer
if the ideas presented in fox's film are true, this is more of a horror film than a documentary. The only people strongly challenging the film's assertions are the gas companies themselves, and from what ive read even they are not thoroughly dealing with all of the issues raised in the film, such as why people's water supplies became contaminated in conjunction with the arrival of drilling, and why they are supplying new water to families who have threatened law suits. this film scared the crap out of me. this is an issue i will continue to pay close attention to.
GasLand Quotes
There are no approved quotes yet for this movie.