The Gay Bed and Breakfast of Terror
(2007)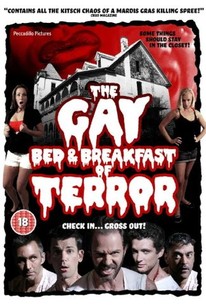 The Gay Bed and Breakfast of Terror Videos
The Gay Bed and Breakfast of Terror Photos
Movie Info
Even the most famished of travelers aren't likely to sample any "delicious" homemade muffins after catching this campy tale of a cozy bed and breakfast that happens to be run by a homo-hating hostess who makes a sport out of killing queers. The eve of the biggest gay party of the year has finally arrived, but when five couples realize that no one has made advance reservations, they make the fateful mistake of booking rooms at the Sahara Salvation Inn, a quaint little inn run by God-fearing Helen (Mari Marks) and her lovely daughter, Luella (Georgia Jean). All they were looking to do was have a little fun for the weekend, but these vacationing gay couples are about to experience the fright of their lives. They should have known by the homey decor that their evangelical Republican host was used to a more traditional clientele, though they never would have suspected that Helen was seeking to cure her daughter of lesbian tendencies through "curing" a gay man and forcing him into a union that Luella never wanted. Now, as Helen attempts to set her guests "straight" with a little help from the half-redneck/half-maggot mutant who haunts the grounds, odds are good that none of the guests will get out of the inn alive.
Rating:
NR
Genre:
,
Directed By:
Written By:
In Theaters:
On DVD:
Runtime:
Studio:
Critic Reviews for The Gay Bed and Breakfast of Terror
Audience Reviews for The Gay Bed and Breakfast of Terror
There was a lot of promise and even with a few cute cast members and some hilarious back story footage, the plot unfolds more like a porn film than a horror film with nothing making sense and the characters motives rapidly shifting and changing to suit the scene. Skip it unless dared to see the film.
Matthew Smith
The Gay Bed and Breakfast of Terror (Jaymes Thompson, 2007) I've actually had a number of people, in the months since I watched this, ask me what in the world I was thinking. I don't get it, because to me, the answer is obvious. It's called The Gay Bed and Breakfast of Terror. I mean, come on, how can you NOT want to watch a movie called The Gay Bed and Breakfast of Terror? This is a movie title that promises laughs, or at least uncomfortable giggles. Acres of stupid satire rivalling only the acres of fabulous fashion. Oh, and there will probably be a serial killer running around. Score! Sadly, the reality was far from the promise, but it wasn't entirely unwatchable. Plot: Helen (Mari Marks) and her daughter Luella (Georgia Jean) run a small bed and breakfast in the middle of nowhere that experiences a sudden surge in popularity when all the hotels in the city fill up for a weekend get-together (it's never explicitly stated, but the chance everyone in this movie is not referring to LA PRIDE is essentially nil) before everyone who's planning on attending gets a room. And thus, five couples (and one fag-hag sister) check into Helen and Luella's Sahara Salvation Inn, home of the country's best mincemeat muffins. And, oh, yeah, a homophobic serial killer (bet you didn't read about that in the brochure...). To be fair, The Gay Bed and Breakfast of Terror does deliver some hefty doses of satire, and Jaymes Thompson's script is loads better than his direction (he left the director's chair to producer Sean Abley when Abley took much of this cast to helm Socket later that year). And the movie does offer a few broad laughs based on that satire, though most of them are uncomfortably close to prejudice (ooh, let's make fun of the lipstick lesbians!). Still, it does manage to hit the mark a time or two (its slaps at the âplottingâ? in modern porn films are hysterical, and there's a promising subplot with two characters who discover they may actually be hetero... though it gets dropped when things start getting complex). Or it would if anyone involved in this movie were actually an actor. There are a few folks who have some nascent chops that could be made into something good (Georgia Jean seems especially promising), but much of this cast were obviously in it for the love of the thing. It is unfortunate indeed that enthusiasm will only take you so far. **
Robert Beveridge
What should have been a slam dunk of awesomeness was, instead, a horrid and preachy affair with not enough of anything it would need to be a successful campy horror flick.
Greg S
The Gay Bed and Breakfast of Terror Quotes
There are no approved quotes yet for this movie.
Discussion Forum
Discuss The Gay Bed and Breakfast of Terror on our Movie forum!