The Geisha Boy
(1958)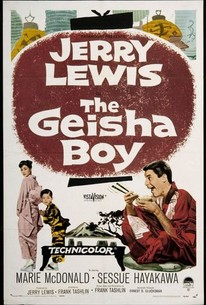 AUDIENCE SCORE
Critic Consensus: No consensus yet.
Movie Info
Jerry Lewis, plays a third-rate USO magician named Gilbert Woolley, working the Far East circuit with his pet rabbit Harry. Nearly fired for accidentally humiliating haughty movie star Marie McDonald, Gilbert's career is salvaged by kindly Japanese aristocrat Sessue Hayakawa; it seems that Gilbert is the only person who is able to make Sessue's lonely, orphaned nephew Robert Hirano laugh. An international incident nearly develops when hero-worshipping Hirano tries to follow Gilbert back to the US, whereupon the poor prestidigitator is accused of being a kidnaper. Like most of the Jerry Lewis/Frank Tashlin collaborations, The Geisha Boy is highlighted by several eye-popping sight-gag sequences. The best bits include a ballpark scene featuring several members of the 1958 Los Angeles Dodgers (notably Gil Hodges) and a sledgehammer-subtle "throwaway" concerning Sessue Hayakawa's previous appearance in Bridge on the River Kwai. Less successful are the maudlin scenes between Jerry Lewis and little Robert Hirano, with both performers ladling on pathos with a trowel. Oh, yes: Geisha Boy served as the film debut of Suzanne Pleshette.
Critic Reviews for The Geisha Boy
Audience Reviews for The Geisha Boy
½
This is a sweet harmless little comedy but nothing special, it will help if your a Lewis fan.
One of the best movies of the greatest Jerry Lewis and Frank Tashlin. That make us remember of Charlie Chaplin classics.
Lucas Martins
Super Reviewer
"The Geisha Boy" is the only Jerry Lewis movie I've ever seen and it's a good one. Jerry Lewis is a magician with a rabbit as a sidekick. He goes on the road one day to Tokyo, Japan where he meets a family that invites him to stay with them. A young boy becomes close with Mr. Wooley (Jerry Lewis) and wants him to be his father. For awhile, Mr. Wooley stays with the family until he learns that he has to go on the road again. "The Geisha Boy" is a funny movie with some classic scenes such as when the rabbit gets loose on the plane and when Jerry Lewis's sandwiches keep mysteriously disappearing. If you like good old comedy movies, you should like this one. NOTE: That was my Amazon review from the year 2000. I admit I haven't seen a whole lot of movies from the 60s or older, but I've seen this one a few times and liked.
Jason Owens
Super Reviewer
The Geisha Boy Quotes
There are no approved quotes yet for this movie.