Gemini (Sôseiji)
(1999)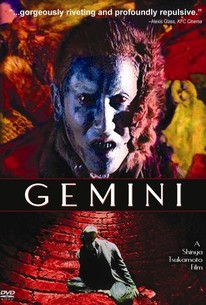 AUDIENCE SCORE
Critic Consensus: No consensus yet.
Movie Info
Shinya Tsukamoto's latest work is a bit of a departure for the director of such over-the-top cult films as Tetsuo: Iron Man (1989). Though punctuated by his trademark kinetic camera work, this moody gothic horror film has the sort of brittle formalism more common in Japanese domestic dramas of the 1940s and 1950s. Dr. Yukio Daitokuji (Masahiro Motoki) is a well-to-do doctor living in a wealthy neighborhood located near a shantytown. He lives in a gorgeous old house along with his father, mother, and beautiful young wife Rin (Ryo). The couple seems happy, but Rin's lack of a past, due to amnesia, is a source of anxiety for the socially conscious doctor. The rigid respectability of the couple's upstanding bourgeois life shatters when a bizarre rag-wearing man kills off Daitokuji's parents in sudden and gruesome manners. The terror gets ratcheted up a notch when the mysterious assailant throws Daitokuji into a deep well on the family grounds and then reveals himself to be physically identical to the young doctor. The stranger assumes Daitokuji's identity by making passionate love with his wife and threatening to kill his patients. Tsukamoto brilliantly juxtaposes the oppressive opulence of the upper class, characterized by deathly silences and Kubrick-like compositions, with the grubby, desperate world of the slums, whose residents could have populated The Road Warrior (1981). While Tsukamoto's fascination with revenge, doppelgangers, and male rage, as seen in Tokyo Fist (1995) and Bullet Ballet (1998), are clearly present in this work, it also showcases the director's growing stylistic maturity. This film was screened at the 1999 Toronto Film Festival. ~ Jonathan Crow, Rovi
Audience Reviews for Gemini (Sôseiji)
½
Fantastic, stylish, and thoughtful period thriller. Directed by Tsukamoto (of "Testuo: The Iron Man" among others) and based on a story by classic mystery author Rampo. Just as cool and rewarding as one would want from that combination. Well worth a look.
Paul Cardullo
Weird, weird movie. Which I am pretty sure is intentional. This movie starts off already as a conundrum but there is definitely something to wait for, because it is a beautiful movie. Then, something happens and I was not sure what to take of it. I think I can flat out say it because it won?t hurt anyone?s take on the movie, but the ?antagonist? at the beginning is wearing a odd costume and does cartwheels to scare someone to death. OK, there is more to it eventually, but it is a odd jab in the early going. Immediately, I start wondering if this is a form of Kabuki or just a kooky Japanese artsy movie. We?ll the story slowly starts to streamline, but the key thing to this movie is that it is a wonderfully visual movie. What?s on screen and the rhythm of scenes is close to hypnotic. The costumes are great, except for the early baddies even when they are put in context, and the settings too. The performances are, I believe, supposed to be the extremes of reserved and explosive. It makes for some uncomfortable moments, but effective none-the-less. For someone who likes motion pictures with dynamic artistic influence, then this one is a go.
Lee B
A hypnotic revenge/love story of a doctor's life being taken over by a twin brother he never knew existed.
MARS Del Toro
Gemini (Sôseiji) Quotes
There are no approved quotes yet for this movie.
Discussion Forum
Discuss Gemini (Sôseiji) on our Movie forum!