Gendai yakuza: hito-kiri yota (Modern Yakuza: Outlaw Killer) (Street Mobster)
(2001)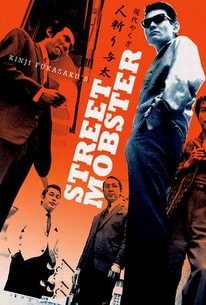 AUDIENCE SCORE
Critic Consensus: No consensus yet.
Movie Info
Legendary director Kinji Fukasaku (Battle Royale, The Black Lizard) takes the helm for this stylish and violent take on the life of a lower echelon yakuza thug striving to survive in a Tokyo where the rules are constantly changing. Thuggish Isamu Okita (Bunta Sugawara) has a bad reputation for his short temper and bad habit of flying off the handle. When he returns to the streets after a harrowing stint in jail, the ever-changing climate finds him struggling to survive. When adaptation to the new way of gang life proves futile for ex-con Isamu, the misfit forms his own gang with the intention of getting revenge on those who wronged him in the past. ~ Jason Buchanan, Rovi
Rating:
NR
Genre:
, ,
Directed By:
In Theaters:
On DVD:
Runtime:
Audience Reviews for Gendai yakuza: hito-kiri yota (Modern Yakuza: Outlaw Killer) (Street Mobster)
½
Since I just Review a Kinji Fukasaku's Sympathy for the Underdog why not review another of his films? This one is a has a different tone than of Sympathy for the Underdog. Street Mobster. It's more Raw, Violent, Bleak and Shocking to say the least. But this film is very notable for being the First Time that Lead actor Bunta Sugawara and Kinji Fukasaku would colaborate as they would make countless films for a decade. But Lets get to the review. The film centers around Okita(Bunta Sugawara) A Hot Head Yakuza Punk, Who has a very short temper and is very difficult to deal with. Due to his violent behavior, He's has About the most trouble with the Yakuza clans in Tokyo. After being released from prison due to Stabbing Yakzua Members in a Massage Parlor. He Bumps into a bunch young punks with nothing to do and uses them to wreck havoc and cause chaos on Yakuza members and in the Tokyo Area. Around this Time, Okita bumps into a hooker that he raped years ago and starts a very close but rough relationship with her as she has feelings for Okita and his Wild Antics. After Okita gets shot in the chest, He's saved A Rival Yakuza Boss Yato(Noboru Ando) who recruits him to his Yakuza Clan as Okita reminds Yato of how he used to be in the past and think he's the only person that can control Okita. Okita, However can not be control as he starts trouble again with A Important Yakuza Clan from Kobe as they take his actions personally and go a manhunt finding Okita and his Young Punks. Now while this type of film has been seen many times, Back in 1972, This film was very Cutting Edge for having such an wild Protangist Breaking the Yakuza Code as most Yakuza Films didn't Have a Protangist breaking the Yakuza code or even showing any honor in his gang. For Example in a scene where Okita has to cut his finger for breaking the rules, he refuses and even cusses out his boss. This type of manner was never seen in Yakuza films, and would be followed on in Kinji's Yakuza Paper Series. What I will praise is the Acting in the film. Bunta Sugawara is Wild as a caged Animal. He's a walking ticking bomb ready to explode. Ive seen many movies in my time but I've never seen someone like Bunta Act like a Animal but make it so believable. Noboru Ando plays the smooth Boss Well but that's not saying much as he's given little to do. Another person I should praise is Mayumi Nagisa as the Hooker that falls in love with Okita. She brings so much emotion and Bitterness into the role this film would of fall flat on this face if it wasn't for her Unforgetable Performance as her moment in the film are the best moments. Another Thing I will praise it that we are given some good Characters to deal with. Okita is yes an out of control maniac who is very selfish but his scenes with the hooker really show a different light of him and it's pays off in the ending as well. The Hooker here went from being a bitter women but finally accepts her role in life which isn't something to be proud of as she starts having feeling for Okita and saves his life when he gets shot. Now i will admit this film isn't for everybody. It's very hard to stay attach to Okita as he's is such an unsympathic Character it's hard to find a liking for this movie. It didn't bother me at all, I'm used to these type of character in these films. Another one is that This film is pretty raw, There's a lot a Hardcore Raping in this film and more violent than Underdog but this film does have it's audience. Overall if you like Yakuza take a peep at it but it's not for ill hearted.
Jonathan Vargas
½
Street Mobster isn't a bad movie, it's just not the strongest. The movie is centered around the rise, fall, rise, and fall of a gang leader named Okita. After his first fall, he leaves prison to find organized crime is not what it use to be, but instead of adapt or evolve, he keeps his old ways, which is his undoing. The film looks and sounds like a movie from the 70's which I always love, I just expected more from director Kinji Fukasaku. I watched it as a warm up before I watch the highly praised Yakuza Papers. I know everyone has a starting point before they refine their formula and methods and I feel that is this film. If you are into this genre, then this film is still worth a watch. If you like the genre but demand a tight script, pacing, etc... you may want to skip this film. 7 / 10
Kevin "The Ninja"
Super Reviewer
Gendai yakuza: hito-kiri yota (Modern Yakuza: Outlaw Killer) (Street Mobster) Quotes
There are no approved quotes yet for this movie.