Général Idi Amin Dada: Autoportrait (A Self Portrait)
(1975)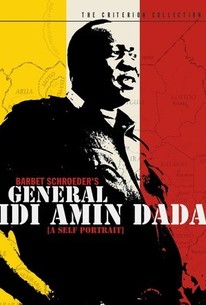 Général Idi Amin Dada: Autoportrait (A Self Portrait) Photos
Movie Info
Ugandan dictator Idi Amin Dada was but a distant irritation to everyone but his own countrymen and the British Empire until his perfidy became headline material in the early '70s. The first director to provide an in-depth study of this gregarious madman was director Barbet Schroeder, with his General Idi Amin Dada. In this documentary, Schroeder and his crew travel to Uganda to spend several days with the despot, one-on-one. The uncomfortable truths revealed in the film are all the most amazing when one realizes that Schroeder could not release his documentary without Amin's approval. ~ Hal Erickson, Rovi
Rating:
NR
Genre:
, ,
Directed By:
Written By:
In Theaters:
On DVD:
Runtime:
Studio:
Criterion Collection
Critic Reviews for Général Idi Amin Dada: Autoportrait (A Self Portrait)
Audience Reviews for Général Idi Amin Dada: Autoportrait (A Self Portrait)
Affable Evil I am currently reading Jimmy Carter's [i]White House Diaries[/i]. In the introduction, Carter says that he won't hide his opinions of people when they're relevant, even if his opinions of the person changed or they are unpopular or otherwise troublesome. Of course, there are a lot of other reasons to leave them out--he's condensing over five thousand pages of transcript into about five hundred pages of book. Carter did, however, leave in a little bit about his dealings with Africa. The first real reference to Idi Amin mentions that he is "obviously crazy." Obviously, this is not on official opinion he expressed on behalf of the United States government. However, it is a beautiful little piece of understatement; I would say that, if Idi Amin was not the craziest world leader of the twentieth century, he was definitely in the top five. Indeed, his pure crazy may be why he didn't conquer more territory. In 1974, Barbet Schroeder went into Uganda with the permission of Amin to record what is referred to as an autobiography. Indeed, what Schroeder saw in those few days he was filming was carefully scripted. He says as much in the voiceover. However, for the most part, this is who Idi Amin wanted to present to Europe and to the United States. He is charming in this, and that is how he wants us to think of him. It's quite obviously the case that he doesn't notice some of the more ominous aspects. He tells his cabinet that they must have respect for the people and for the government. And then, the longer he talks, the more open he becomes that what he really means is that you need to do what Idi Amin tells you to, that he is Uganda. It shows, as I said of him in my review of [i]The Last King of Scotland[/i], the music-hall tyrant. Only when he puts down his concertina, he starts training his army to attack the Golan Heights. So, you know, there's that. Because what I had not necessarily realized is that Idi Amin was a total, total anti-Semite. I hadn't read about the hostage situation at Entebbe. (He does mention that people wanting to avoid hijacking should fly, say, Air France, which didn't do so well for those people.) However, at one point in the film, he says that he has a document proving the Jews' plans to take over the world. He is now revealing this to the world, which should take note and wipe Israel off the map, which was the fashion at the time. Because, in fact, his document is [i]The Protocols of the Elders of Zion[/i], a known hoax from the nineteenth century originally about the evils of Napoleon III. Schroeder helpfully points out that it was required reading in the schools of the Third Reich. Amin refuses to discuss a statement he'd supposedly made about saying Hitler should have finished off the Jews, but he doesn't back off from meaning it, and Uganda wasn't exactly healthy to Jews while Amin was in charge. Really, though, the documentary is only interesting as a work of psychology. Were it about someone, you know, sane, it would not be much worth watching. It is our fascination with evil which keeps it at all in the public eye. Idi Amin thought he was doing what was best for Uganda, but what was best for Uganda was getting rid of Idi Amin. The film tells us about a letter Amin sent to Tanzanian President Julius Nyerere telling him of Amin's deep love for him. He tells Nyerere that, were he a woman, Amin would marry him for all Nyerere's age. Which is more than a little creepy. It is this sort of thing which makes the film compelling at all. It is a work of careful spin. Yes, Schroeder worked in post-production to establish what is not on the screen, and while those bits were removed in Amin's lifetime, they have been restored for the Criterion Collection edition. It's worth noting that a short version was sent to Amin while he was still in power, and he liked it and approved its content. I have maintained for some time that most evil people don't know they're evil. It's not as though Idi Amin woke up every morning and thought, "Well, up for another day of being a truly horrible person to everyone who crosses my path." Yes, I believe he actually enjoyed killing, at least on a visceral level. However, it is most likely that he did believe the Jews to be a serious threat to the world. He did believe that expelling the 80,000 Asians from Uganda was best for the country. I can't even really fault him for caring about his own people above those British subjects; that's what a leader is supposed to look to first. The fact that it didn't actually help Uganda and indeed hurt it is not the point. Or maybe it is--he thought he was doing the right thing, and everything he thought was right was cruel and unjust, or as close to everything as makes no difference. Here, he thinks he's coming off as an average guy who also happens to be an excellent leader, but he cannot hide what is behind his eyes.
Edith Nelson
½
An intriguing and unique document. I didn't know much about Amin going into it, so it was an eye-opener. He was quite a charismatic fellow, but Schroeder slyly reveals the menace underneath the jolly facade, often simply by letting him talk longer than he should.
Martin Teller
A masterwork from documentary genius Barbet Schroeder! If you saw Last King of Scotland then you know Amin was one crazy motherfucker, but it still can barely prepare you for the real deal.
Manny Casillas
Général Idi Amin Dada: Autoportrait (A Self Portrait) Quotes
There are no approved quotes yet for this movie.
Discussion Forum
Discuss Général Idi Amin Dada: Autoportrait (A Self Portrait) on our Movie forum!