Genius On Hold
(2013)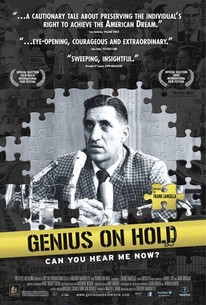 Movie Info
At the heart of GENIUS ON HOLD is the story of Walter L. Shaw-a brilliant inventor with an astonishing list of telecommunications patents to his name including call forwarding, touchtone dialing, speakerphone and voice recognition. His ground-breaking designs should have earned him great fortune and lasting fame, but for one thing-the power, greed, and oppression of AT&T, the largest, government-sanctioned, telecommunications monopoly in the United States which blocked him from realizing his dream. Punished, imprisoned, and eventually destitute, Shaw was drawn to the only organization that would reward him for his talent-the mob, whose bookies used his "black box" and "blue box" to run their gambling operations and evade the Feds. His son, Walter T. Shaw, embittered by his father's destruction, turned to organized crime and became one of the most notorious jewel thieves in American history. All to get back at the system that destroyed his family -- but at what cost?
Rating:
PG (for thematic elements, brief language and some smoking images)
Genre:
,
Directed By:
Written By:
In Theaters:
On DVD:
Runtime:
Studio:
Critic Reviews for Genius On Hold
Audience Reviews for Genius On Hold
Terrible. Heavy-handed. It tried to land a ridiculous broadside against capitalism using a monopolistic Ma Bell and a dysfunctional family as its contenders. There was no corroboration; only talking heads. The Kennedys, AT&T, technology, the Mob, blacklisting, deregulation, thievery, penology...I think the filmmakers set a record in the number of incoherent stories told in 90 minutes. How on earth this 12th grade history class project got 80% is beyond me.Frank Langella should file suit against the filmmakers for negatively affecting his future income as a voiceover.
Steve S
Interesting subjects, shitty execution. How this gets release at the Landmark Sunshine Cinema for a minute let alone a week is beyond me. Youtube would be more sufficient.
Jack Gattanella
Genius On Hold Quotes
There are no approved quotes yet for this movie.