Genius Within: The Inner Life of Glenn Gould
(2010)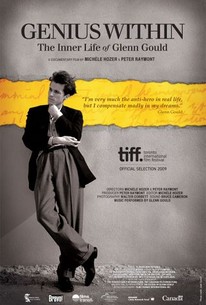 Genius Within: The Inner Life of Glenn Gould Videos
Genius Within: The Inner Life of Glenn Gould Photos
Movie Info
Those familiar with the work of the incomparable pianist Glenn Gould know the factors that contribute to his myth -- extraordinary childhood proficiency; obsessive dedication to his uniquely precise playing style; a fraught personal life; rakish, rock 'n' roll looks and will revel in this beautiful, detailed evocation of his life. For those to whom he's a new name or a marginal figure, this is a thoroughly pleasurable primer, and a work of art in its own right.
Critic Reviews for Genius Within: The Inner Life of Glenn Gould
Audience Reviews for Genius Within: The Inner Life of Glenn Gould
This movie was a good insight into the real life of Glenn Gould which featured people that really would have insight on his personal life. It helped dispel some of the myths of his idiosyncrasies and focuses really more on Glenn as a person rather than a pianist.
Raji Kosloske
½
Documentaries about a person can be a difficult thing to craft. The life of Glenn Gould is very easily stereotyped as the "world-hating genius hermit with mental problems". No doubt, Mr. Gould's life can be very troubled but what is amazing about this film is that it shows Mr. Gould as very human. Contrast to a documentary like Senna, Genius Within celebrates Gould's larger than life achievements and insights, but also understands that he is still a person. It may be difficult to sit through this documentary if you have no interest in Mr. Gould or classical music, but by the end of the movie you just feel that you appreciate art so much more. That in itself is difficult for a documentary to create. If you don't share Mr. Gould's love for music, you can certain appreciate it and acknowledge that Glenn Gould is one of the greatest human beings in modern history.
J.J. Wang
I loved it. I love Glenn Gould, so I was easily amused. It sheds some new light on a musician who has been discussed a lot. The crucial question about Gould is often lost by many people. How is it that a classical pianist (not a composer or conductor) is still getting so much attention 30 years after his passing? It isn't just his exceptional playing, nor is it his odd behavior. I think it is because he was so tuned in to our times, predicting developments in music, computers, media, etc., in some cases long before the means existed to make it real.
Morris Nelms
Super Reviewer
Genius Within: The Inner Life of Glenn Gould Quotes
There are no approved quotes yet for this movie.
Discussion Forum
Discuss Genius Within: The Inner Life of Glenn Gould on our Movie forum!