George Carlin - Jammin' in New York
(1993)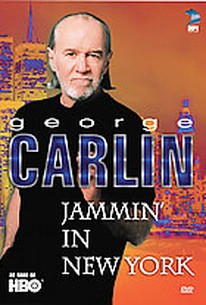 AUDIENCE SCORE
Critic Consensus: No consensus yet.
Movie Info
George Carlin, one of the most sardonic and satirical comedians in the business, once again uses his sharp-edged wit to dissect political figures, government agencies... and eating disorders. This special received an Emmy nomination, and features Carlin in top form.
Audience Reviews for George Carlin - Jammin' in New York
Brilliant live concert in NY city. Fast talking and thinking Carlin is non-stop talking for an hour in this look at ourselves and others. There are two different versions of this show available. The original VHS release was filmed on a different [and better] night than the show released on DVD. [img]https://encrypted-tbn1.gstatic.com/images?q=tbn:ANd9GcR-UOp9rm0U5fUmWjqDp9iFOTg6TG-_xj5uUPjhPjZxCyh47QqJXA[/img] Reviews from the little folk, like us: 70% Carlin is great in this and it is exactly what one would expect from him. The sense that this man spoke in each skit exceeds most and remains humorous. 100% 5 stars is not enough [img]https://encrypted-tbn2.gstatic.com/images?q=tbn:ANd9GcSTzUcGnE-X8Sb-g67WKbT-kLnovVgL1jYRMC1NlJaGodB1vwlOQQ[/img] To see the entire VHS 58 minute show: http://www.youtube.com/watch?v=VSQ3iFWKdRQ NOTES: 1 The album won a Grammy Award in 1993 for Best Spoken Comedy Album. 2 Before the opening credits, the words "This show is for SAM" appear. This is a reference to comedian Sam Kinison, who died in a car crash two weeks earlier. 3 Carlin considered Jammin' in New York his favorite HBO special. [img]https://encrypted-tbn3.gstatic.com/images?q=tbn:ANd9GcRtv-zNB0lC4QZjPFgZHpMGcSUJfetXQrDJBQphdRfx77_CjKH5[/img] Released November 10, 1992 Recorded April 24-25, 1992 Genre Comedy Length 56:56 Label Atlantic/WEA Producer Jerry Hamza, Brenda Carlin [img]https://encrypted-tbn1.gstatic.com/images?q=tbn:ANd9GcT-jEpCOqRAMOw9IVHAlrG2xXQzKv_i9jqLw_4C0MdgCmS6LDi7MA[/img] Track listing 1."Rockets and Penises in the Persian Gulf" - 7:35 2."Little Things We Share" - 7:47 3."Airline Announcements" - 16:44 4."Golf Courses for the Homeless" - 11:13 5."The Planet Is Fine" - 13:37 [img]http://upload.wikimedia.org/wikipedia/en/thumb/8/8b/GC_JINY.jpg/220px-GC_JINY.jpg[/img]
monsieur rick
½
Carlin's political bent is a real turn off at the beginning of the show. It was an interesting interpretation, but it was lacking for me. He began hitting stride with the airline bits. Quite funny.
Robert Owens
George Carlin - Jammin' in New York Quotes
There are no approved quotes yet for this movie.
Discussion Forum
Discuss George Carlin - Jammin' in New York on our Movie forum!