George Washington Slept Here
(1942)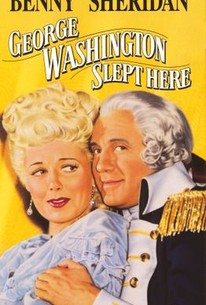 AUDIENCE SCORE
Critic Consensus: No consensus yet.
George Washington Slept Here Videos
George Washington Slept Here Photos
Movie Info
The Moss Hart-George S. Kaufman Broadway hit George Washington Slept Here has herein been tailored to the unique talents of Jack Benny. In the original play, city dweller Bill Fuller, fired up with the spirit of "back to the soil," purchases a ramshackle Colonial-era farmhouse in upstate New York, dragging his reluctant wife, Connie, along for the ride. Everett Freeman's screenplay retains the basic set-up with one important difference: in the film, it is Connie Fuller (Ann Sheridan), an inveterate antique collector, who is all hopped up about buying and renovating the old farmhouse, while husband Bill (Jack Benny), with visions of abject poverty dancing in his head, hates the whole idea. This slight character alteration allows Jack Benny to indulge in the frustrated, put-upon slow-burn comedy he does so well, while still leaving Hart and Kaufman's dextrous plot twists and punch lines intact. Most of the humor derives from the thousand-and-one "little" flaws in the drafty old house -- collapsing walls and ceilings, antiquated plumbing, et al. -- all duly categorized by laconic caretaker Mr. Kimber (Percy Kilbride, in a brilliant performance). Also thickening the plot are the efforts by the near-bankrupt Bill and Connie to curry favor with their wealthy uncle Stanley (Charles Coburn), who turns out to be a cheerful old fraud. The resolution of the plotline is inherent in the title, but there's still one last indignity left to be dumped on poor Bill Fuller's head at fade-out time.
Critic Reviews for George Washington Slept Here
All Critics (2) | Fresh (2) | Rotten (0)
George Washington Slept Here never transcends or even makes much of an effort to conceal its stagebound origins, but ultimately, it doesn't need to.

Considering the fine cast and pedigree of the playwrights, this slapstick comedy is a let down.

Ozus' World Movie Reviews
Audience Reviews for George Washington Slept Here
OMG another lost review-well I just re-watched this gem Benny is a master of physical comedy and prat-falls plus those one liners he keps pitching just a gr8 movie
Greg Wood
½
William Keighley directed this adaptation of the Kaufman and Hart stage play, and it was released in late 1942. I read that Jack Benny's role was changed to fit his recognizable comic persona. In the play, Bill Fuller is as excited to move to the country as his wife Connie is. In this movie adaptation, Bill likes living in apartments in New York City and foresees the money pit that a colonial home in upstate New York can become. Jack Benny's altered character blends in believably to the existing story. His wife, played by the radiant Ann Sheridan, is the one who longs for a more settled lifestyle of home-ownership and is sold on a particular fixer-upper because supposedly "George Washington slept here." There is lots of good slapstick humor as Bill discovers everything in the house is falling apart, there is no water, and a neighbor claims ownership of the road and well. Mr. Kimber (Kilbride) is the caretaker of the property and his mounting expenses and slow country ways irritate Bill further. Bill's in-law Uncle Stanley (Coburn) comes to visit once they are settled in better. At first he is another annoyance, then a potential financial savior, then his secret of being broke since the depression is revealed, and yet he becomes one of the many allies the Fullers have against the mean neighbor. A local historian disillusions Bill and Connie by telling them the house was more likely visited by Benedict Arnold in a great punchline. Still the movie includes a patriotic message because of the year in which it was made. See it for Kaufman's and Hart's funny jokes and situations though.
Byron Brubaker
Super Reviewer
The great Jack Benny complaining for an hour and half about having to live in country rather than the city. Lots of great laugh out loud moments, but the story wraps up so fast I got really confused. It was like Benny really had to get back to NY and they only had one day left to shoot and 30 pages of script, so they just cramme it all in. Still a really fun watch, such a simplier time.
Keith Munley
Super Reviewer
George Washington Slept Here Quotes
Discussion Forum
Discuss George Washington Slept Here on our Movie forum!