Geppetto
(2000)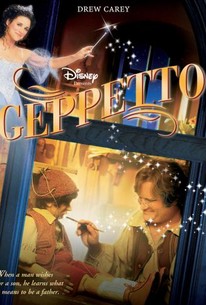 AUDIENCE SCORE
Critic Consensus: No consensus yet.
Movie Info
Wise-cracking, beer-drinking comedy star Drew Carey makes a change of pace as he tops the bill of this made-for-TV adaptation of Carlo Collodi's classic children's fantasy. Geppetto (Drew Carey) is a bachelor woodcarver who loves children, but has none of his own. As he works on a wooden puppet he calls Pinocchio, Geppetto sadly wishes he could have a son; the Blue Fairy (Julia Louis-Dreyfus) decides to grant his wish, and Pinocchio comes to life. Geppetto is thrilled, but he soon discovers that taking care of the little wooden boy is more trouble than he ever imagined. As Geppetto struggles with the responsibilities of parenthood, Pinocchio is kidnapped by Stromboli (Brent Spiner), a traveling puppet master who wants to use the enchanted marionette in his traveling show. Though Geppetto has become disillusioned with his abilities as a father, he can't let Pinocchio be stolen away by an ill-meaning stranger, and sets out to find the wooden boy. En route, Geppetto meets a number of strange and remarkable characters, including the inept magician Lazardo (Wayne Brady), the mysterious Professor Buonragazzo (Rene Auberjonois), and the Ring Leader (Usher Raymond), who spirits wayward boys away to Pleasure Island. Geppetto features several original songs by Steven Schwartz; the film was produced for the ABC television network, where it first aired on May 7, 2000.
Critic Reviews for Geppetto
There are no critic reviews yet for Geppetto. Keep checking Rotten Tomatoes for updates!
Audience Reviews for Geppetto
Heartwarming and magical! Drew Carey shines as Geppetto learns that being a parent is not as easy as he expected. This is a must-see Disney television movie with an amazing soundtrack. (First viewing - 11/14/2010)
Adam R
One of my cherished childhood memories. Definitely better than the Disney version, mostly thanks to some great songs by the songwriter of Wicked, The Prince of Egypt, and The Hunchback of Notre Dame. A great children's film.
ZeldaGiygasLord 603
Normally I hate it when casting directors just cast as many famous names as possible, because it usually means the movie is so weak that they feel they need all those big names to sell it. Also, Pinocchio was one of my favorite tales when I was a kid, and I've never been very impressed by retellings of classics. For those two reasons, it took me a long time to break down and sit through this. I was very pleasantly surprised, though. While this isn't very unique, it's quite charming and for the most part stays true to the original story. I especially enjoyed the Pleasure Island scenes. Drew Carey's performance is warm and appealing and probably one of the best performances I've seen from him. This is a great family movie.
Amanda Hendsbee
Geppetto Quotes
There are no approved quotes yet for this movie.
Discussion Forum
Discuss Geppetto on our Movie forum!