Germany, Year Zero
(1949)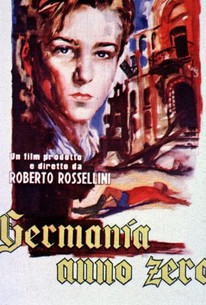 Germany, Year Zero Photos
Movie Info
In the third and final film of Rossellini's WWII trilogy, the director shifts his focus from his native Italy to the bombed-out ruins of Berlin, where 12-year-old Edmund Koehler struggles for survival. Among the nine people he lives with are: a father, who is suffering from malnutrition and a fatal illness; a brother, who is a former Nazi soldier hiding to avoid arrest; and a sister, who has turned to prostitution. Scouring the rubble-strewn city for food, money, and cigarettes, he comes upon a former teacher, Herr Enning (Erich Guhne), who evinces a barely restrained sexual attraction to the boy while providing him with records of Hitler's speeches that can be bartered on the black market. He also drums into the boy a classic piece of Nazi propaganda about the importance of having the courage to let the weak be destroyed. Under his influence, the confused young protagonist heads down a tragic path.
Critic Reviews for Germany, Year Zero
Audience Reviews for Germany, Year Zero
Even if it tends to diverge a bit from neorealism into melodrama, especially in its last moments, this is a gut-wrenching tale set against the wreckage of a post-war Berlin, about a tragic boy who embodies the pain of a collapsed society struggling to survive.
Carlos Magalhães
Super Reviewer
the bombed out ruins of berlin are used to great effect here. a really hard hitting film for 1947
Stella Dallas
Super Reviewer
While many argue that "Germany Year Zero" is just misery stacked upon misery with nothing else, sometimes that's life and is reality for people. This is the third and final film in Rossellini's War Trilogy and is by far the shortest and to the point, running at 73 minutes while the others are closer to 120 minutes. In no way does the run time hinder the message of the film, rather it makes the message clear and hard. The film's protagonist is a twelve year old boy named Edmund Koehler who along with his brother and sister must care for their weak and dying father. Edmund's older brother was in the German army and thus is in hiding due to the allied forces being in power at the end of WWII. This means that there are four people trying to surviving on three rations, leading them all to struggle day to day. Edmund helps in any way he can, often making mistakes and being taken advantage of in many ways but It's clear his intentions are heroic and noble. After helping an old teacher sell items and make a little money, Edmund begins to get brain washed by the teacher who constantly speaks of being brave and letting the weak die and the strong live. It's due to this that Edmund proceeds down a rough and ultimately fatal downwards spiral. The film itself is a lonely and dark coming of age film in wore torn Germany and is almost a horror film for the neo-realist genre.
Chris Browning
Super Reviewer
Germany, Year Zero Quotes
There are no approved quotes yet for this movie.