Get Out Your Handkerchiefs (Préparez vos Mouchoirs)
(1978)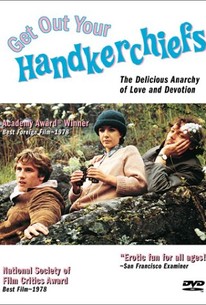 Get Out Your Handkerchiefs (Préparez vos Mouchoirs) Photos
Movie Info
The lightly mocking title Get Out Your Handkerchiefs (Préparez Vos Mouchoirs) sets the tone for this Bertrand Blier-directed amalgam of the sentimental and sardonic. Gérard Depardieu plays an at-wit's-end husband, Raoul, who'll go to any lengths to sexually satisfy his wife, Solange (Carole Laure). Raoul decides that the best thing to cure Solange's boredom would be if she took a lover; thus, he chooses Stéphane (Patrick Dewaere) for the "job." But Stéphane isn't any more successful in arousing Solange than her husband had been. Eventually, it is a 13-year-old boy who quenches Solange's erotic yearnings. Get Out Your Handkerchiefs won a Best Foreign Language Film Oscar as well as a French César award for Best Score (by Georges Delerue). ~ Hal Erickson, Rovi
Rating:
R
Genre:
, , ,
Directed By:
Written By:
In Theaters:
On DVD:
Runtime:
Critic Reviews for Get Out Your Handkerchiefs (Préparez vos Mouchoirs)
All Critics (10) | Fresh (9) | Rotten (1)
Bertrand Blier's audacious sex comedy won the Best Foreign Language Oscar of 1978.

Going Places, which preceded this film by a year, is the Blier film to beat, but Handkerchiefs is one unruly, rioutously funny entry just the same. (The Academy, is must be noted, preferred this one, and the film took home the Best Foreign
Audience Reviews for Get Out Your Handkerchiefs (Préparez vos Mouchoirs)
½
The video case advertised a menage a trois, but the relationship dramatized in this French/Belgium production involves more than trois. Depardieu is Raoul. He and his wife can't have a baby and she is depressed, but it seems that there is more to her depression than becoming a mother. Carole Laure is the objectified Solange. She spends quite a few scenes topless and is often treated like property. Raoul randomly enlists Dewaere as Stephane to be a second husband to Solange, thinking that she needs another man to make her happy. Stephane and Raoul are men with different hobbies and interests. The most humorous parts involve these two guys arguing over their tastes and how to handle Solange. In reality, they seem more into each other than their mutual "wife." They randomly get a kindly neighbor wrapped up in their drama, too, as another "husband." Then the main three become counselors at a summer camp where Liebman as Christian Beloeil, a 13-year-old boy, becomes infatuated with Solange. It is uncomfortable to American sensibilities to see an underage boy express himself like a manipulative sex monger, and, further, for the woman to fall for the boy and let the unhealthy relationship continue. This is the basic plot of this odd, sexual, self-described sardonic tale.
Byron Brubaker
Super Reviewer
This film which won the Academy award for Best foreign film is a "friendlier" version of Blier's earlier masterpiece, Les Valuses. Good cast and dialog still make this a decent watch.
Generoso Fierro
½
[size=5][b]Woman of the Year[/b][/size] Directed by: George Stevens [img]http://images.excaliburfilms.com/dvd/reviews/imagesCH3WY/gr27281D1.jpg[/img] Can I say something blasphemous? I think Katherine Hepburn was loved more for what she represented then for her actual acting ability. It's not that she's a bad actress, not at all, but she's also nowhere close to being as good as she's made out to be. Anyhow, this movie kind of brings that to light indirectly by it's storyline. The story, minus the happy ending, could have been about Hepburn herself. It's about a modern, overachieving woman who can't seem to slow down to smell the flowers, even after she marries an earthy sports writer who's more interested in baseball then politics or social movements. I actually found this movie more dark and sad then funny. It's overriding themes are more of someone who's sold their soul for fame and glory. Oh sure, it's played with a wink and a nod, but I still found it rather sad. It's certainly a bad flick, but like Heburn, I think it's remembered more for what it represents then the pure quality of the film it's self. [size=4][i] 6.5[/i][/size] [size=5][b] Sherrybaby[/b][/size] Directed by: Laurie Collyer [img]http://us.movies1.yimg.com/movies.yahoo.com/images/hv/photo/movie_pix/ifc_films/sherrybaby/maggie_gyllenhaal/sherrybaby_poster.jpg[/img] This is one of those movies that's hard for me to rate. On one hand, it's very well acted, very honest and realistic, and very heartbreaking. On the other hand, I thought it messed a few things up needlessly, and while I enjoyed the style, it seems to be copying the 'hip indi' style that seems to accompany so many DVD's that have labels that speak of thing such as 'Best Picture at ______ Film Festival'. It's a good style, but it's not terribly original. You know it, the crisp cinematography shot in unstylized houses, stores and streets, the 'hip, indi' actors playing 'edgy' parts, the 'hip' underground music in the background, the 'important' issue. etc. It's a good formula, I usually enjoy it, but it's starting to get me a little weary. Maybe that's too harsh. I suppose it's as legit of a style as other archatypes, be it screwball comedy, melodrama, fast paced action etc. I guess it's just that they pride themselves on being original, and can sometimes fall into the same patterns as as other types of films. Also, I REALLY disliked the blink-and-you'll-miss-it subplot that obviously implies that Sherry is a drug addict because her dad molested her as a child (her dad, while hugging her, feels her up). It was so totally unnecessary and ruined what I thought was the more interesting tone of the film up to that point. The rest of the film was really excellent. Easily Gyllenhaal's best performance, yes, even better then Secretary. She completely transforms herself into her character, with all her anger and pain, falsity and reality, its quite good. I also really liked Danny Trejo, a minor actor I've always admired, as a man she hooks up with more out of mutual necessity then love. I've had a couple of cousins who are like Sherry. It made me understand the plight of their parents in a new light. I really appreciated what this film did, for the most part. I might be blowing it's problems out of perportion, but I guess that what happens when you get so close to something real, you notice what doesn't fit more easily. [size=4][i]8.5[/i][/size] [size=5][b] Get Out Your Handkerchiefs[/b][/size] Directed by: Bertrand Blier [img]http://cdn.channel.aol.com/amgvideo/dvd/cov150/drt100/t157/t15707va7ku.jpg[/img] ******Spoilers******** What do you say about a sex farce about a husband who, in an attempt to cheer up his troubled wife, gets her to have an affair with another man, only to have both him and his wife's new lover wind up in the slammer while his wife ends up being pregnant with the child of a 13-year-old kid with a 153 IQ? Only in France. That's what I'll say. Anyhow, It's funny and well acted. I didn't think it was anything outstanding, and I'm not sure why it won the Best Foreign Film Oscar, but I can't say I didn't enjoy it. [size=4][i]7.0[/i][/size]
Cliff Smith
Get Out Your Handkerchiefs (Préparez vos Mouchoirs) Quotes
There are no approved quotes yet for this movie.
Discussion Forum
Discuss Get Out Your Handkerchiefs (Préparez vos Mouchoirs) on our Movie forum!