Get Smart Again
(1989)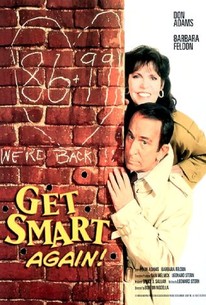 AUDIENCE SCORE
Critic Consensus: No consensus yet.
Movie Info
Made-for-television feature reuniting the cast of the popular 1960s spy-spoof series, with Agents 86 and 99 out to save the world again from the evil agents of Kaos.
Rating:
PG
Genre:
,
Directed By:
Written By:
In Theaters:
On DVD:
Runtime:
Studio:
Worldvision Home Video
News & Interviews for Get Smart Again
Audience Reviews for Get Smart Again
½
Pretty funny at some points but it felt 2 times longer than it actually was. Not as good as the original series.
Kelsey Koester
½
A "25 years later" sort of outing...doesn't recapture what the show had going, but not as bad as the 1995 show with Andy Dick...or the recent remake for that matter.
Brett Wolfe
½
Get Smart, Again directed by Gary Nelson written by Leonard Stern, Mark Curtiss and Rod Ash starring Don Adams, Barbara Feldon, Bernie Kopell, Richard Gautier, Robert Karveles, King Moody, Harold Gould So, I haven't actually seen a single episode of the old series that ran from '65-'69. I can only look at this cinematically without getting bogged down with how "loyal" to the show is. As far as I can tell, this TV movie suffers from a dull script, brutally unfunny gags, and a complete lack of style. The gags are mostly misinterpretations, physical foul-ups and the like. Sight gags are repeated throughout and there are even a few running jokes that get terribly old the first time they are shown, let alone the fifth or sixth. It's a movie for fanatics and that's about as far as it goes. Otherwise, its just a series of lame bits with a preposterous story thrown in to make it seem like a movie. The plot, what there is of it, involves Maxwell Smart, Agent 86, (Don Adams) being recruited by the U.S. Intelligence Agency for a job that apparently only he can perform. This would be figuring out who the mole is inside the agency and reclaiming a weather machine presently in the hands of evil, evil KAOS who plan on using it to control the world's weather patterns. Smart recruits all his fellow agents from the original series and they all work together to solve the pressing concern. At first Smart is unable to tell his wifey, Agent 99) about his work because the President strictly forbids husband and wife teams from working together. Of course Smart lets slip and the President capitulates so 99 is back in action and ready to save Smart's ass as is required. The film employs a series of wacky weapons that include a laser credit card and a suit jacket that's actually a computer with a phone, database, and many other hifalutin capabilities that Smart employs at various moments throughout the movie. There is also the famous shoe phone which is unfortunately destroyed the one and only time it is used. Smart and his trusty sidekick Beamish (Steve Levitt) battle it out with a baddie using remote control filing cabinets and there is a small gun that 99 compares to a package of tootsie rolls. It's all cute and silly and not even slightly entertaining. Alright, the laser credit card was amusing the first time it came out in the film. Other than that, the weapons serve neither to amuse nor inform. The whole production smacks of a sitcom idea expanded to feature film length. Granted, it is a made-for-tv movie so one shouldn't exactly expect serious production values but this one seems to have been put together on a shoestring. Still, its not entire charmless. Barbara Feldon still looks great although Don Adams skin seems to have turned into leather. I wish I could say that I actually laughed at least once but it never happened. To me, comedies are for the laughing and without it there is really no reason for comedies to exist. I imagine, again, that the die-hards, those trusty fools, will laugh at these stale jokes that wore out their welcome the first time around. They will enjoy all the "humor" that is stolen from the series and consider themselves amused. The secondary characters do possess a modicum on personality and are not wholly insignificant. Richard Gautier as Hymie certainly behaves like a tv-sitcom turned made-for-tv movie robot should probably act. Although, the old gag of him taking everything said to him literally becomes hackneyed after its first use. Bernie Kopell is sort of menacing as the evil KAOS head, Conrad Siegfried. The rest do their jobs, get paid and go home to their ever-beckoning spouses or girlfriends or maybe they end up alone. The point is, this is a cheap comedic movie totally devoid of laughs. Overall, despite its myriad failings, occasionally a bit of sunshine will stream through to save this from complete abject failure. It still lacks just about everything one might hope for in a movie experience but there's an earnestness here that cannot be properly denied. There's an attempt to make something of note and it is technically efficient. The performances don't stand out necessarily but they are credible in the end. Unfortunately, with a lousy script, there is only so much actors of this caliber can do to elevate it above the pedestrian. Ultimately, it's just a lamentable tv movie that has the unseemly distinction of having been derived from what I understand is a superior original source.
Everett Jensen