Ghidorah: The Three-Headed Monster
(2007)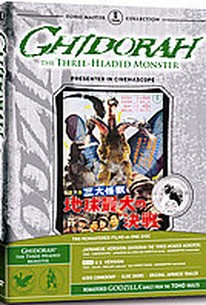 AUDIENCE SCORE
Critic Consensus: No consensus yet.
Movie Info
A prophet's apocalyptic predictions come true when a meteor crashes to earth, bringing to life the evil three-headed dragon King Ghidorah. To make matters worse, Godzilla, Mothra, and Rodan resurface to terrorize Japan; the earth's only hope is that the catastrophic trio will defend their home turf against this extraterrestrial enemy.
Critic Reviews for Ghidorah: The Three-Headed Monster
All Critics (1) | Fresh (1) | Rotten (0) | DVD (3)
Even with a deliberately lighter tone being enforced, this Godzilla film cannot help but lend itself to anti-technology warnings of the implicit kind.

Audience Reviews for Ghidorah: The Three-Headed Monster
½
What is better than two monsters fighting? Four monsters fighting that's what. The highlight in this movie is King Ghidorah, a giant 3-headed flying dragon that spews lightening from each mouth. It arrives from earth on a meteorite and its up to Godzilla, Mothra, and Rodan to send him back from where he came. One of the better Godzilla themed movies this one has some of the best special effects of the group. Great fun.
Mike L
½
"Caterpillar jizz defeats space monsters too. Coming right off the heels of Godzilla vs. Mothra, one of the better movies in the Godzilla cannon, Ghidorah, the Three-Headed Monster continues the previous films success by playing off a lot of the same ideas. While this is the first movie to come without an overt, political agenda, it doesn't really suffer because of it. In fact, it was a little refreshing to avoid the ideology in my monster movie. Ghidorah, the Three-Headed monster continues the pleasing science fiction and fantasy aspects that were introduced in Godzilla vs. Mothra and further builds the world that these monsters inhabit. This results in a generally pleasing experience even if it's steeped in camp and a little slow to develop." Read the full review at... http://predictabilityofstupidity-alfindeol.blogspot.com/2010/03/ghidorah-three-headed-monster.html
Ken Brill
[font=Arial][color=#000000]A large, magnetic meteor lands in Japan on the same night that botched assassination attempt on a princess plummets her from her plane into the Tokyo seas. She emerges with amnesia, and now claims that she's a Venusian messenger, and warns that the meteor contains a fearsome, three-headed dragon named King Ghidorah who will lay Earth to waste. With the princess's would-be assassins in close pursuit, things only get more chaotic when Godzilla and Rodan awaken from hibernation and start destroying Tokyo in a big, thunderous battle. Mothra and its twin priestesses must try and get Godzilla and Rodan to stop fighting and unite in order to destroy King Ghidorah, and save the world. One of the better entries in the [i]Godzilla [/i]series, this fifth chapter is the first time that Godzilla was sort of "drafted" by the good guys for Earth's benefit, and not destruction – though he stomps out a good number of areas anyway. The flying menace Rodan is thrown in for good measure after a successful solo film in 1956, and proves to be a little more than old Godzilla can handle sometimes, pecking at his head repeatedly in one very funny sequence. The assassin angle is needless, but adds some of that James Bond flair to the mayhem, and feels somewhat in place during the film, seeing as there were countless spy shoot-em-ups during this time. It's cheesy fun all the way. Followed by [i]Godzilla vs. Monster Zero.[/i][/color][/font]
Jay Marsiglia
Ghidorah: The Three-Headed Monster Quotes
There are no approved quotes yet for this movie.
Discussion Forum
Discuss Ghidorah: The Three-Headed Monster on our Movie forum!