Ghidorah, the Three-Headed Monster (San daikaijû: Chikyû saidai no kessen)
(1964)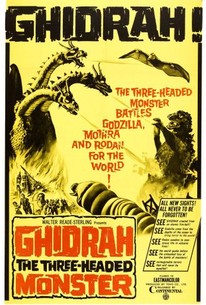 Movie Info
When the populace of Tokyo is threatened, Godzilla, Rodan and Mothra go head-to-head-to-head with Ghidrah. Yosuke Natsuki, Yuriko Hoshi.
Critic Reviews for Ghidorah, the Three-Headed Monster (San daikaijû: Chikyû saidai no kessen)
Audience Reviews for Ghidorah, the Three-Headed Monster (San daikaijû: Chikyû saidai no kessen)
The thing with Godzilla films is that they all become a tad predictable in terms of concepts, plots and executions. But that's not necessarily a bad thing, especially if it's a monster flick and with a genre like this, there's only one way to go about creating something good, and that's giving genre fans what they want, awesome monster chaos. Building on the success of the very entertaining Mothra Vs Godzilla, this is yet another very entertaining movie which brings Godzilla facing yet another enemy. This is a flawed film, but one that relies on its visuals to create its entertainment. The cast do a good job here, and the plot itself is quite considering that this is the fifth entry in the series. Genre fans will surely enjoy this one and it is a highly enjoyable movie despite its silliness. However that's all part of the Godzilla universe and the flaws are there, but there's just so much going on here that you simply don't care about the flaws and you enjoy the chaos that ensues on-screen. This is standard Godzilla fair, and it's just what you want in the end. For a fifth movie this works well enough throughout and it is fun, entertaining and a definite good time if you're in the mood for these types of films. Entertaining from beginning to end, this is more of the same than previous entries, and it is quite the spectacle. At times the script could have been reworked slightly; however it should keep you entertained due to the thrills the movie offers.
A meteorite from space lands in Japan. At about the same time Godzilla and Rodan also awaken to wreak some havoc. It soon transpires that the asteroid is Ghidrah, destroyer of planets, and a missing princess has had her body taken over by one of the last remaining Venusians. Eventually the humans must call on Mothra to convince Rodan and Godzilla to stop kicking rocks at each other and help save the planet. Same, same, but packs less of a punch. The main reason may be due to Ghidrah's origins. His three foes are all products of humanities mistakes regarding nuclear weaponry. Ghidrah is just a planet destroyer from space. You will enjoy this if you've seen the other films, and Godzilla and Rodan's quarreling is brilliantly comical. There's certainly more life in Godzilla's face than there has been before. Monster smack down time!
Luke Baldock
Super Reviewer
One of the best early Godzilla outings.
Anthony Valletta
Super Reviewer
Ghidorah, the Three-Headed Monster (San daikaijû: Chikyû saidai no kessen) Quotes
There are no approved quotes yet for this movie.