Ghost of Mae Nak
(2005)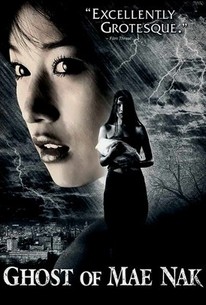 AUDIENCE SCORE
Critic Consensus: No consensus yet.
Movie Info
Ghost of Mae Nak is an updating of one of the most popular ghost stories in Thailand, which has been the basis for over 20 movies from the silent era to the present. The original story concerns a 19th century rural villager, Mak, who returns home from war not knowing that his wife, Nak, is a now a ghost. She died during childbirth while he was away. When the villagers try to warn Mak that the woman he came home to is a ghost, Nak kills and harasses anybody who threatens to separate the two until Buddhist monks finally exorcise her unnatural spirit. Though Mak and Nak are victims of dire circumstances, the village must exert control in order to keep their tenuous society intact.The tale is related in this film through the grandmother, suitably wrinkled and foreboding, of a modern-day girl named Nak (Pataratida Pacharawirapong), who is not dead. She is engaged to her own Mak (Siwat Chotchaicharin). After this cute idealistic couple gets married and moves into a decrepit house, the original ghost Nak (Porntip Papanai), now named Mae Nak for clarity, starts haunting Mak to try and get him to save her still-tortured soul. Apparently the Buddhist monks who originally exorcised her cut out a portion of her skull, which Mak unknowingly bought in a shop, and which needs to be placed back in the corpse's head before she can really rest in peace. While they try to figure what it is that Mae Nak wants, the ghost helps Mak and Nak by threatening sleazy city types (a shady real estate dealer, a couple of thieves, a geeky crush who won't take no for answer) taking advantage of their precocious naïveté. After Mak is hit by a car and goes into a coma, it's up to Nak to return the bone and save her marriage. ~ Michael Buening, Rovi
Rating:
NR
Genre:
, , ,
Directed By:
Written By:
In Theaters:
On DVD:
Runtime:
Studio:
Critic Reviews for Ghost of Mae Nak
There are no critic reviews yet for Ghost of Mae Nak. Keep checking Rotten Tomatoes for updates!
Audience Reviews for Ghost of Mae Nak
½
Tired of Asian supernatural horror movies yet? No? Good, then Ghost of Mae Nak is one you should add to your "to see" list. It's a nice little ghost story from Thailand about a recently married young couple that's haunted by the ghost of a woman that died 100 years ago. After the husband is left in a coma that inexplicably won't end, the wife must investigate the origin of the supernatural presence in order to help him. There's a well-told back-story that explains why this particular couple earns the supernatural attention, so there (thankfully) aren't a lot of dangling story-lines. Ghost of Mae Nak includes a lot of Final Destination-type deaths that are pretty entertaining. I was actually surprised by how elaborate some of them were. There's a fair amount of jump scares and startling things in mirrors too, but Ghost of Mae Nak is more creepy than frightening. Still, I was very pleased with how good this movie turned out to be, and I definitely recommend it. IF, like I mentioned at the beginning of the review, you're not burned out on Asian horror after it's ubiquity in the west post-The Ring. The main actress, Pataratida Pacharawirapong, is incredibly pretty too, if that kind of thing interests you.
½
Another mediocre ghostly offering from Thailand, interestingly though it's been directed by an Englishman! Despite a creepy looking ghost, the film fails to deliver any scares whatsoever! Surprisingly there were a couple of decent gory moments that I wasn't expecting. But ghost movies should be all about eerieness and atmosphere and there was just none of that present here. The whole film had a lethargic feel to it and it wasn't terribly exciting or intriguing enough. Lags a long way behind "Shutter".
½
A very average ghost story with the second half a little more sinister than the first. Quite a typical, predictable Horror in most senses, with the odd good moment thrown in. Not all bad, but certainly nothing special. A couple of slightly eerie moments towards the end, but not a particularly scary film.
Lady D'arbanville
Super Reviewer
Ghost of Mae Nak Quotes
There are no approved quotes yet for this movie.