The Ghost Breakers
(1940)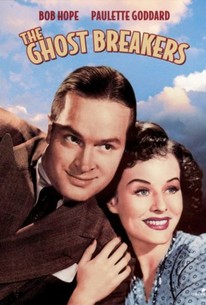 The Ghost Breakers Videos
The Ghost Breakers Photos
Movie Info
In this film, radio personality Lawrence L. Lawrence flees New York to avoid being mistakenly arrested for murder. He books passage on a Cuba-bound liner, where he meets heiress Mary Carter. She about to take charge of a supposedly-haunted mansion. Lawrence volunteers to investigate the mansion for Mary.
Critic Reviews for The Ghost Breakers
Audience Reviews for The Ghost Breakers
½
Two great leads in this horror comedy film. It is not the best of either of them by a long shot and it is not much to write home about but if you like the stars you will probably get some laughs out of it It is a dark and stormy night in Manhattan when Goddard learns that she is the new owner of a supposedly haunted island. Hope on his part is a radio man who is soon on the run from mobsters after a comment he made on air. After a shooting Hope finds himself face to face Goddard and she helps him out of a pickle. Soon she boards her ship heading for her island and he has no choice but to tag along. There everything comes to fruition and the Ghost Breaksers take on the haunts and the dangers of Castillo Maldito. This is a good example of the horror comedies of the 1930s and 40s. Hope was better with Crosby and Goddard was better with Chaplin, but this film certainly has some hilarity.
Four Star Film Fan
Lovely cinematography, a sharp witted Hope, and a gorgeous Goddard. Even with all that, the film's primary standout was it's casual racism and depiction of African Americans; it often undercut the humor and suspense.
One of my favourtie Hope movies, it's really very funny. If you're a fan, check it out. It's sort of a spoof of old horror and mystery movies.
The Ghost Breakers Quotes
There are no approved quotes yet for this movie.
Discussion Forum
Discuss The Ghost Breakers on our Movie forum!