Ghost Graduation (Promoción Fantasma)
(2012)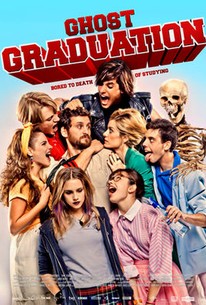 AUDIENCE SCORE
Critic Consensus: No consensus yet.
Movie Info
A teacher who can see ghosts gets his last chance at professional success when he's hired to educate five deceased students.
Critic Reviews for Ghost Graduation (Promoción Fantasma)
All Critics (1) | Fresh (1) | Rotten (0)
From stupid jokes to laugh-out-loud moments, Ghost Graduation provides a terrifically fun time, a supernatural romantic retro comedy that more than lives up to the films of the 80s that inspired it.
Audience Reviews for Ghost Graduation (Promoción Fantasma)
A movie that very openly wears its 80s movies influences on its sleeves. To the point that during the obligatory music montage, it steals some of the dance moves during the music sequence in Breakfast Club. Of course, you would think, that the worst thing that this movie can do is invite comparisons to the Breakfast Club, one of the best teen comedies of all time. But it doesn't feel so much as a ripoff as much as it is a very affectionate tribute to one of the films that, very clearly, influenced it. Admittedly, this movie is more hit and miss than I would appreciate, but I absolutely loved the tone and pacing of this film. It's not too serious or too deep, but it gets by on an incredibly likable cast and just being fun to watch. My favorite characters of the film, by far, would have to be Manuela, the school secretary, and the psychiatrist who projects his own repressed homosexual thoughts onto Modesto. These two fit the definition of effective secondary character down to a T. The fact they appear so infrequently makes each appearance memorable. Their bits, particularly Manuela's, are incredibly inspired and they got a lot of laughs from me. It also helps to have really talented actors like Silvia Abril, as Manuela, and Joaquin Reyes, as the psychiatrist. Their bits are the best parts of the film, hands down. And even without them, this movie would've still been fun. It's kinda surprising, in a way, that this film hasn't been remade in Hollywood. It's not that it's got a unique concept, or the film is that great, but just the fact of how fucking easy it would be to actually remake this. Not saying that this was easy to write, film, edit, etc. But it's just a movie that definitely needs to be seen by more people. A remake would open doors for people who, otherwise, wouldn't have given this film the time of day. Again, it's not like this is a great film, especially since it becomes a little too sentimental for my liking, but this is just a fun movie and sometimes that's just what the doctor ordered. I cannot stress that word enough, honestly. This is just fun. Those who are a little bit more jaded might dislike this, but I had a really fun time watching this. I would definitely recommend it as a Netflix watch. I had a good time watching this.
Jesse Ortega
Super Reviewer
Ghost Graduation (Promoción Fantasma) Quotes
There are no approved quotes yet for this movie.