The Ghost Rider
(1935)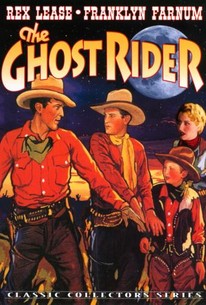 AUDIENCE SCORE
Critic Consensus: No consensus yet.
Movie Info
Although billed fourth, Veteran silent screen actor Franklyn Farnum is the real star of this ultra low-budget Western from the poorly named Superior Talking Pictures. Escaping from jail, Jim Bullard (Farnum) avenges himself on the thieving Raskobb clan by placing an ace of spade on every member he can kill. Enter the newly appointed deputy sheriff, Dave Danford (Rex Lease), who quickly finds himself in the crossfire between the warring Bullards and Raskobbs. The Ghost Rider and a subsequent Superior release, Cyclone of the Saddle (1935), were tagged as "Rough Rider" Westerns. Rex Lease and teenage rider Bobby Nelson co-starred in both.
News & Interviews for The Ghost Rider
Audience Reviews for The Ghost Rider
[center][img]http://images.rottentomatoes.com/images/movie/coverv/31/1038931.jpg[/img] [left] This was a strange movie for me because at times I wanted to turn it off, and other times I was like, "Yeah, kick it up baby, this is rockin." An overall uneven production left me feeling let down at the end, but I'm still going to give it a six, yet it could have easily been a seven or eight. I guess, it helped that I never read the comic books, lived in my mom's basement until I was 28, and work as a night stocker for Target. So I had no preconceived notions of what I wanted to expect -- although the trailers for this film really turned me off, which was unfortunate because it was not a horrible movie like some people made it out to be. Cage did an OK job as the devils dirty deeds ghost rider, the bike was awesome, Sam Elliott was great as usual -- made me want to watch another western with him in it -- , Peter Fonda was a turd of a devil, pretty good special effects too. [center][img]http://images.rottentomatoes.com/images/movie/gallery/1156585/photo_04.jpg[/img] A pretty good cast of baddies added some good action scenes. [/center] I think if they had spent a little more time on Cage's ghost riding adventures, and less on his cycle jumping stuff, it would have been more interesting -- but that is just me. Also, the ending was, how do they say, "corny". [img]http://img146.imageshack.us/img146/4625/tomato1bx7.jpg[/img] [/left] [/center]
Woody Woodrow
How many times have you gone to see a movie and you just really wanted it to be good? Well, sometimes a movie is what it is, and you can't deny it was just a bad movie. Welcome to the [I]Ghost Rider[/I] experience. The story goes that when Johnny Blaze was a young carnie motorcycle stunt rider, he sold his soul to Mephistopheles in exchange for his cancer-ridden father's health. When Mr. Blaze gets his health back, the devil causes the old rider to have a fatal accident on his bike, and Johnny is stuck working for old 'Stopheles forever. Cut to modern times. Nicolas Cage is Johnny Blaze, and he has used his deal with the devil to become famous for doing insane stunts that should rightfully kill him. To sum up the film's long beginning, Johnny hooks up with his childhood romance, Roxanne (Eva Mendes), and they want to rekindle their old flame. Meanwhile, a demon called Blackheart is coming in with his evil gang to do some evil stuff. This is not Devil-Certified Evil, so Mephistopheles wants Blackheart stopped. He taps Blaze and gives him the powers of the Ghost Rider, which means he is bulletproof, has the ability to stare and his head catches on fire. On his fiery motorcycle, Ghost Rider goes off to fight Blackheart and his cronies in what ends up being one very underwhelming fight after another. Mark Steven Johnson, the guy who gave us the not-so-good [I]Daredevil[/I], and the outstanding [I]Daredevil Director's Cut[/I], is at the helm of [I]Ghost Rider[/I], and from the very beginning you can't help but feel that he really wanted to give us a comic book. On one side, we have a fun look, one that never seems real, but more comic book-like, which I appreciated. On the other hand, Ghost Rider, with its cheesy dialogue and strange story-telling, never feels like a movie. Also, I don't really understand why Johnny Blaze turns into Ghost Rider, and suddenly he only churns out horrible lines and laughs really hard. Honestly though, the real problem with [I]Ghost Rider[/I], besides its horrible dialogue and story that doesn't translate well to film, is the fact that the audience never feels any dread. When you watch Spider-Man fight Doc Ock in [I]Spider-Man 2[/I], you have the feeling of "Oh crap! Spidey is in trouble!" In [I]Ghost Rider[/I], you never feel anything like that. You always know how it is going to end: Evil will be punished, the girl is not going to die and Ghost Rider will ride off into the sunset (and in this movie, he actually does).
Gary Sundt
The Ghost Rider Quotes
There are no approved quotes yet for this movie.
Discussion Forum
Discuss The Ghost Rider on our Movie forum!