Ghost Story
(1981)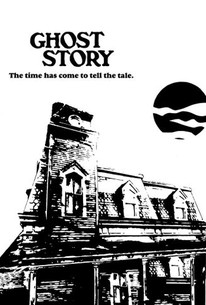 Movie Info
This 1981 John Irvin picture constitutes an adaptation of Peter Straub's colossal, bestselling novel. The central plot -- shared by both book and film -- revolves around the four elderly members of the Chowder Society (Fred Astaire, Melvyn Douglas, Douglas Fairbanks, Jr. and John Houseman), who gather in each other's drawing rooms each winter to sip cognac and spin elaborate ghost stories. The four men also share a dark secret far more unsettling than fiction -- a secret which has literally come back to haunt them, as well as their own adult offspring. Each man is visited by a hideous specter bearing the likeness of a young woman (Alice Krige) they accidentally killed 50 years ago when spurning her mischievous sexual advances.
People Who Like this movie also like
Critic Reviews for Ghost Story
Audience Reviews for Ghost Story
Ghost Story is an average horror yarn that had the potential of being something truly memorable. As it stands, there are some effective moments here and there, but overall the material is mostly flat with minimal chills to be had. I enjoyed the film as a mindless time waster, but I also felt that the filmmakers could have put a bit more effort into the film's script to really make it stand out among other ghost tales. Acting wise, there are some good performances, unfortunately there are no standout performances either. Genre fans may enjoy it, and there some good things about the film. However like I said, there should have been more effort put into delivering something truly horrifying. Ghost Story is mildly chilling, and it leaves a lot to be desired. Is the film worth seeing, you ask? Well, it is, if you want something in the vein of Amityville horror, where it's not too scary, and then this is a perfect film to watch. Ghost Story is one of those films that is perfect for newcomers of the horror genre as the horror content is quite soft, but suggests more that what is going on, on-screen. In that sense, it leaves the imagination run wild, and it that respect, the movie succeeds at being quite entertaining and overcoming its shortcomings. The film could have been reworked, but as a whole, it's mindless entertainment that will appeal to new fans of horror, but for the veteran, they notice its flaws very early. The plot on the other hand is quite good, but good have been perfected a bit more to really make Ghost Story a memorable horror classic. In the end, it's worth seeing, and if you can get past its imperfections, you might like it as a cheesy horror tale.
½
Great to see old vets Astaire, Houseman, Fairbanks, Douglas and Neal headlining a major film its just too bad that film isn't better.
½
And speaking of Fred Astaire . . . It's almost painful to see some stars grow old on screen. I can well understand Jamie Lee Curtis' statement about needing to set a date for retirement because she does not want to be a witness to herself growing old on film. Not that Astaire does not grow old gracefully -- by any means. It's just that his aging is more pronounced because of the added dimension of his great dancing ability. I could not imagine him, in this movie, breaking into a dance over the furniture during a meeting of the Chowder Society -- and that hurts.
I loved this book when it first came out. The movie does bring together some aging heavyweights, and they acquit themselves like the acting legends that they are, given the limitations of age. But if you really want to have the pants scared off of you, you gotta read the book. It's right up there with The Shining for me.
Lanning : )
Super Reviewer
Ghost Story Quotes
There are no approved quotes yet for this movie.